Apple Rebrands iOS in the Car as CarPlay
Apple has taken the wraps off of what had been called iOS in the Car and given it a new name: CarPlay. Announced at the Geneva Motor Show, CarPlay will be demoed Tuesday with cars from Ferrari, Mercedes Benz and Volvo. Billed as "smarter, safer, and more fun way to use iOS in the car," CarPlay will roll out in new cars later this fall. CarPlay is built on Siri. The new software will be delivered with an update to iOS 7, presumably iOS 7.1 which most users are expecting any day now. But then, you'll need a new car to actually test it out. Anticipated for some time, iOS in the Car was originally announced at WWDC 2013.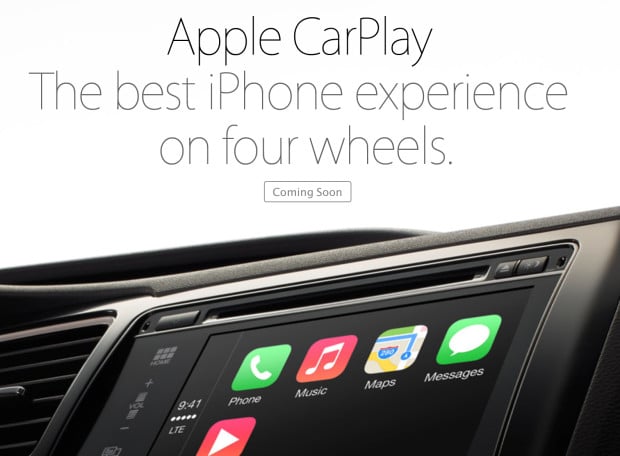 Apple lists BMW Group, Ford, General Motors, Honda, Hyundai Motor Company, Jaguar Land Rover, Kia Motors, Mitsubishi Motors, Nissan Motor Company, PSA Peugeot Citroën, Subaru, Suzuki and Toyota Motor Corp, as the lineup of auto manufacturers that will be installing CarPlay into their cars.
From the press release:
CarPlay has been designed from the ground up to provide drivers with an incredible experience using their iPhone in the car," said Greg Joswiak, Apple's vice president of iPhone and iOS Product Marketing. "iPhone users always want their content at their fingertips and CarPlay lets drivers use their iPhone in the car with minimized distraction. We have an amazing lineup of auto partners rolling out CarPlay, and we're thrilled it will make its debut this week in Geneva.
Cars with CarPlay can activate Siri with a touch of a button on the steering wheel to control Apple Maps, make a call, or access messages while driving. While CarPlay will work exclusively with Apple Maps, messages, and Phone Apps, users will be able to play music from some "select third party audio Apps" in addition to iTunes and iTunes Radio. Apple says CarPlay functionality will be coming in other Apps down the road. You can check out more on a new section of Apple's website.

As an Amazon Associate I earn from qualifying purchases.