Apple Releases iOS 5.0.1 Update to Improve Battery Life
Apple has released iOS 5.0.1 update that most are hoping addresses the battery life issues that seem to be plaguing quite a few new iPhone 4S users.
The new iOS 5 update is available on iTunes and is rolling out to iOS devices over the air. You can plug in to your computer to update, or you can update by opening up Settings on your iPhone, iPod or iPad.
The update is available for the iPhone 4S, iPhone 4, iPhone 3GS, iPad, iPad 2 and the iPod Touch 3rd and 4th generation.
Below, you see the what the iOS 5.0.1 update looks like when you upgrade on your iPhone.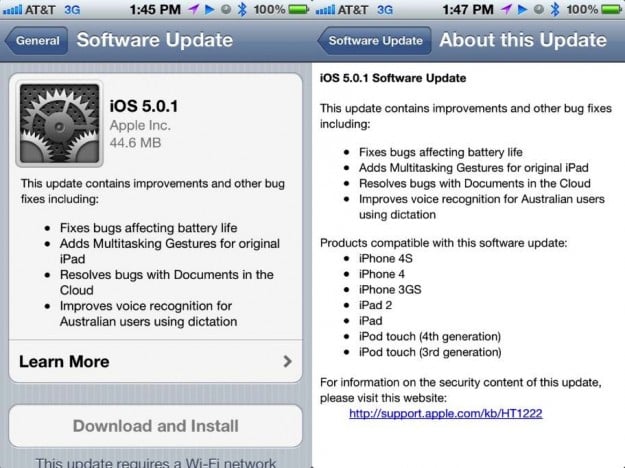 In addition to what bugs may be causing battery life issues, the update supposedly also addresses the following issues:
Fixes bugs affecting battery life
Adds Multitasking Gestures for original iPad
Resolves bugs with Documents in the Cloud
Improves voice recognition for Australian users using dictation
Contains security improvements
more from Apple: https://support.apple.com/kb/HT1222
Keep in mind that if you want to jailbreak your iPhone you should not download the update. See this post for more on that.
And while you might be really anxious to check this out, keep in mind for many users who have been doing a backup via iCloud that this might be your first restore via that method. So you might want to make sure you are backed up.

As an Amazon Associate I earn from qualifying purchases.