Apple Releases iTunes 11.1 Ahead of iOS 7 and iPhone 5s and iPhone 5c
Apple released iTunes 11.1 to regular users after putting out a beta version for developers yesterday. It comes as Apple prepares users for the release of iOS 7 and new iPhones. The new version does more than just prepare users for iOS 7 and iPhone 5s and iPhone 5c. We also get a few new features like iTunes Radio, better support for podcasting and app management when a users connects their iOS device to their Mac or Windows computer.
Download iTunes 11.1 either from the software's download page or via the Mac App Store update tab. It seems Apple is rolling out this update in stages, so not all users will see version 11.1 immediately. By the time iOS 7 ships, the new version will likely go live for everyone.
iTunes Radio
Here's our hands on video of the service in iOS 7 on an iPhone.
iTunes Radio wins the nod for the most significant new feature in iTunes 11.1. Apple announced it at WWDC earlier this year when they took the wraps off some of the iOS 7 and OSX 10.9 Mavericks features. iTunes Radio competes with the popular music streaming services like Pandora, Google Play Music All Access and Spotify. These services give users nearly unlimited music streaming for a monthly fee. iTunes Radio does the same, using a Radio theme with stations related to styles of music based on artists and genres.
Subscribers to iTunes Music Match will enjoy ad-free access to iTunes Radio for $24.99/year. This makes iTunes Radio cheaper than the other services, which cost around $8-$10 per month. However, we find the other services offer a better experience, letting us download music and play it offline. iTunes Radio doesn't do this.
Better App Management
As we shared in our post about the iTunes 11.1 beta, this full version of iTunes 11.1 comes with better app management features. Users can see all of their iOS device screens, work with interactive images of all their folders, and more easily organize apps on the screen.
Podcast Station
Power podcast listeners or viewers will love this new feature. Podcast Stations organizes podcasts into stations for easier watching or listening. Set up a station of Tech podcasts or entertainment podcasts. The station shows the user their most recent unplayed podcasts of that kind. The user sets them up in iTunes and they syncs to their iOS device while connected or over iCloud.
Genius Shuffle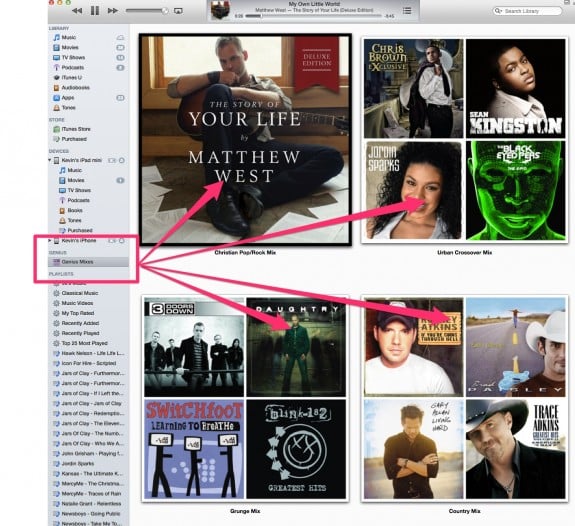 The Genius Shuffle feature takes a user's music and finds other content based on the artist or style of music. Listeners can click on a Genius Shuffle to start discovering new music in that genre. This makes creating new Radio Stations effortless.
What Apple Left Out
iTunes helps users move content on and off their iOS device, but we'd like to see some more improvements.
Full iCloud or online iTunes – get rid of the terrible Windows iTunes app and the unwieldy iTunes app on all platforms and put it 100 percent in the cloud
Separate Out Media Formats – If we can't have the first item, then give us a separate app for playing various kinds of music on our computers like we get on iOS devices with different apps for Music, Podcasts, Books, Apps, Movies/TV/Videos, Audiobooks, iTunes U
Everything in the Cloud – If we don't get fully online version of iTunes, at least let us store all of our media online and download it to any device we've attached to an account