Apple Releases New AirPort Express Base Station
Apple spent nearly two-hours introducing new features and products during its keynote presentation, but that still wasn't enough time to get to everything. Devices like the new AirPort Express Base Station just appeared in the Apple Store without an official announcement.
The new Apple Airport Express Base Station is a Wi-Fi router from Apple that looks and functions like a scaled-down AirPort Extreme Base Station.
Unlike the previous AirPort Express, the new device has both Ethernet-in  and Ethernet-out ports. Previous models only had Ethernet-in so devices could only connect to via Wi-Fi. The extra port means users can connect one device via an Ethernet cable for a more stable Internet connection. It's very useful for video game consoles or gaming PCs where users will want to cut down on lag.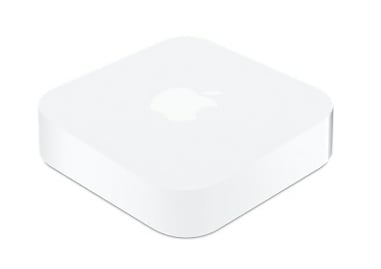 The new AirPort Express Base Station also has a single USB port that can be used to connect a printer for wireless printing. Unfortunately, the port cannot be used for Network Attached Storage like the port on the AirPort Extreme. That also means users can't use it to attach a Time Machine drive to the network like the Time Capsule.
Like other Apple routers, the AirPort Express Base Station supports AirPlay. An included audio jack lets users connect any speakers to the device to use them as AirPlay speakers.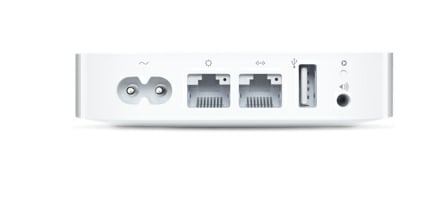 Unfortunately, the new version of the AirPort Express Base Station lacks one key feature of the old version: the ability to plug directly into a wall socket. The new device uses a cable to connect to the wall, so it requires a surface of some sort. The exclusion is unfortunate, but the extra Ethernet port and audio jack might make it a better device for some users.