Apple Rigs Siri to Declare the iPhone as Best Smartphone
Last week just when CTIA was beginning, users who asked Apple's personal digital assistant Siri what the best smartphone available is got a surprising result–Siri told them that the best iPhone, based on user reviews, is the Nokia Lumia 900. The data that drives Siri comes from Wolfram Alpha and the result should be unsurprising given the independent database and Nokia's and Microsoft's huge push behind Windows Phone. Now, it appears that Siri is reverting back to its old answer and is declaring the iPhone as the best smartphone available.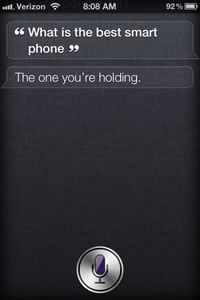 According to CNET, Siri now says that the best smartphone is 'the one you're holding,' when asked.
Wolfram Alpha had gathered information about devices from reviews posted on bigger sites, such as user comments and reviews on Best Buy's website. However, the results may have been skewed as the review for the Lumia 900 comes from only four users who gave the device a 5 out of 5 rating while the iPhone has an average rating of 4.7 from 86 users.
It's unclear if Apple is working with Wolfram Alpha to alter the results, or if once the question gets understood by Siri, Apple is pushing its own answer instead of relying on Wolfram Alpha's information.
Also in recent news, Apple's co-founder Steve Wozniak also added the Lumia 900 to his arsenal and gave the public his candid review and opinions about the smartphone and Android, noting that its clean UI was fresh and refreshing, but stated that he still prefers the iPhone. Still, Wozniak had ranked the Windows Phone platform ahead of Android; the co-founder also picked up the Google Galaxy Nexus ahead of the device going on sale in the U.S.

As an Amazon Associate I earn from qualifying purchases.