Apple Rivals React to iPhone 5s, iPhone 5c: Comments from HTC, Nokia, Motorola
Did Apple innovate enough with its latest iPhone hardware? The Cupertino, California maker of the iOS operating system and the devices that are powered by the mobile OS had announced a flagship iPhone 5s, a device that would both succeed and replace the iPhone 5 in Apple's late 2013 smartphone lineup, alongside a more budget iPhone 5c model. With the careful selection of words, cleverly executed Keynote slides (essentially Apple's version of PowerPoint), and Apple's emotional appeal, the iPhone 5s and iPhone 5c were in some ways stale while in other ways ware game changers to the industry that Apple had upended when late CEO Steve Jobs had announced the original iPhone in 2007.
So what did Apple's rivals think about the new flagship hardware and Apple's big day? HTC, Microsoft, Motorola, and Nokia were anything but kind towards the new hardware. Even Denny's Diner, a restaurant, used the occasion to voice its opinion. HTC Android smartphone-maker HTC probably makes phones that are closest to Apple's in build quality at the flagship end. The HTC One features an award winning sleek, aluminum unibody design with plastic seams for better reception in a process called "zero-gap" construction. HTC used Apple's big day to promote its HTC One and mock the iPhone. In one tweet, HTC USA told observers that "It's time to upgrade to actual change," and advised concerned users to "help your friends trade in their iphone toward an HTC One."
It's time to upgrade to actual change. Help your friends trade in their iPhone toward an #HTCOne. https://t.co/ZbPqDgnATw — HTC USA (@HTCUSA) September 10, 2013
And while HTC's designs are starting to look like Apple's, Apple's introduction of its new iSight camera on the iPhone 5s may be straight out of HTC's playbook. Highlighting the fact that larger pixels lead to better photos, Apple's new camera introduction may have well been for HTC's Ultrapixel shooter. In another tweet, HTC told its Twitter audience that it's obvious "2>1.5," alluding to how the new camera on the iPhone 5s has pixels that are just 1.5 microns, still smaller than the 2-micron sized pixels on HTC's Ultrapixel camera.
2>1.5. Basic math. Innovation at its finest. — HTC USA (@HTCUSA) September 10, 2013
Motorola Mobility Google-owned Motorola Mobility had some choice words to say about Apple's iPhone announcements as well. Though Motorola didn't rub it in that it had debuted a fingerprint sensor on its Atrix 4G in early 2011 at the Consumer Electronics Show, Motorola says that the new experience of using a phone is about touchless gestures, something that it is pioneering with its new Moto X, Droid Ultra, Droid Maxx, and Droid Mini. Touchless controls include the always-on sensor so users can access Google Now's voice search even when the display is off along with an Active Notifications display, and Motorola Assist software that automatically adjusts features on the phone to help you with battery life and manage notifications in a non-disruptive way.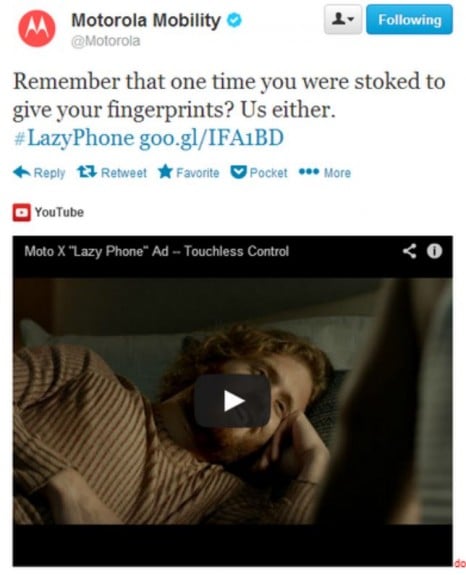 Motorola may have been a bit over-zealous in getting that tweet up. The tweet had been removed on Twitter but was posted on Phone Arena. This isn't the first time that Motorola has demonstrated eagerness to turn to social media and incite reactions–it's "Got Wood" comment on Instagram and Twitter for the wooden back panel of the Moto X was controversial and Motorola had pulled those tweets as well. Denny's Diner Even the restaurant industry is chiming in with its thoughts. In a mockery of the lowercase "s" in the iPhone 5s name, Denny's Diner posted an image of a stack of pancakes and said "pancake[s]," playing off of Apple's marketing.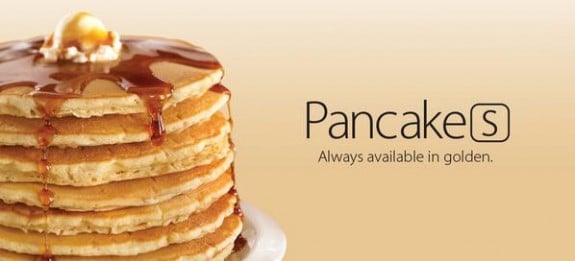 Microsoft Microsoft, which had announced that it will be acquiring Nokia's devices and services division, had turned to Twitter to boast about the superiority of the 41-megapixel camera sensor on the Lumia 1020 compared with Apple's 8-megapixel sensor on the new iPhone 5s.
Nokia Nokia has gotten braver in its attack on Apple in marketing campaigns in recent months, and it's definitely not holding back when it comes to its own reactions to the iPhone 5s and iPhone 5c. Perhaps one of the first companies to make the use of plastic feel premium when it debuted its line of Lumia devices, Nokia claims that the iPhone 5c's unibody polycarbonate and colorful back is an imitation of its own Windows Phone lineup. The company says that "imitation is the best form of flattery."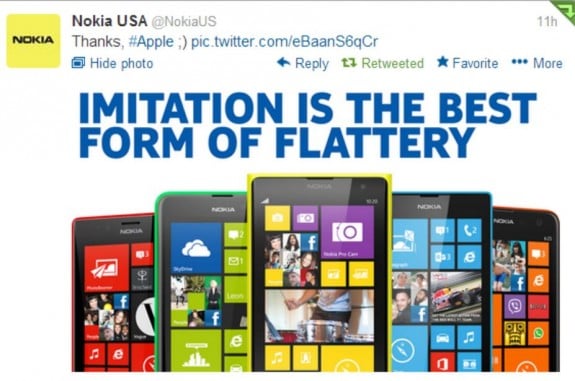 And when it comes to the gold iPhone 5s color choice, Nokia mocks Apple's typical "hipster" user demographics by saying that "real gangsters" don't use gold phones.
Samsung Samsung Mobile stayed classier on Twitter and continued on promoting its recently launch Galaxy Note 3 and Galaxy Gear smartwatch on Twitter.

As an Amazon Associate I earn from qualifying purchases.