Apple Says Your New iPad Is Supposed to Be Hot
Shortly after the new iPad launched, we noticed that the new iPad runs hotter than the iPad 2.
Users have reported that it runs significantly hotter than the old iPad, with heat differences of up to 10 degrees.
We haven't had our iPad turn off due to overheating, but that is always a possibility when the iPad gets too hot.
Today, Apple has responded to the new iPad heat issues, hopefully preventing Heat-Gate 2012.
In a statement to the The Loop, Apple explained the increased operating temperature.
"The new iPad delivers a stunning Retina display, A5X chip, support for 4G LTE plus 10 hours of battery life, all while operating well within our thermal specifications. If customers have any concerns they should contact AppleCare."
Apple doesn't deny that the new iPad runs warmer than earlier models. The company is simply saying that whatever temperature the new iPad does run at is okay by Apple. The company had to test the device before launch to make sure it fell within those thermal specifications.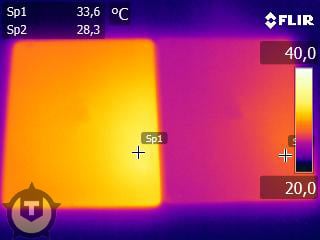 Tweakers.net compared the new iPad to the iPad 2 with an infrared camera to find the temperature difference. The results showed the new iPad peaks at about 92.5 degrees Fahrenheit, while the iPad 2 ran at around 82.9 degrees.
While there is a difference of about 10 degrees, it's not enough to cause widespread concern. It's certainly not enough to cause the device to spontaneously combust.
None of the new iPads in use by GottaBeMobile staff have gotten too hot to hold, or so hot that they have turned off. If your new iPad has issues with heat, you should contact Apple to decide if a replacement can resolve your problems.