Apple Selling Shorter Lightning Cable, Tweaked In-Ear Headphones
Today Apple quietly released a new Lightning cable and made a small change to its in-ear headphones.
The new Lightning cable from Apple is half the length of the cable it includes with the iPhone 5, iPad mini and other recent iOS devices, but it costs the same. The new cable is 0.5 meters long (just over 1.5 feet), as opposed to the one meter (about three feet) cable is also sells.
Apple currently sells both of its Lightning cables for $19, regardless of length. Some users will still want the shorter cable, to keep clutter down in a car or other small space, but for others it would make more sense to buy the longer cable because of the price.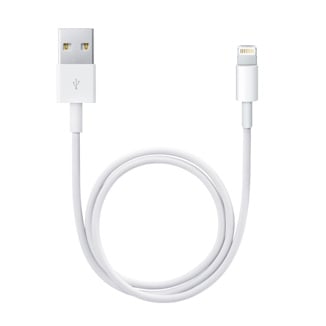 Apple-approved third-party manufacturers also make a variety of Lightning cables of varying lengths. Short cables from those companies are typically less expensive than Apple's official cables. Some manufacturers even have much longer cables for that cost less than Apple's Lightning cables. Monoprice, for example, sells a 6-foot Lightning cable for under $13.
Apple also quietly updated its in-ear headphones today, though the change is rather minor. The new headphones feature a redesigned in-line remote. The new in-line remote is the same as the one included in Apple's new EarPods it includes with the iPhone 5.
Everything else about the Apple in-ear headphones appears the same. The buds look exactly the same, and none of the specs have changed from the older version. Apple still sells the in-ear headphones for $79. While that's not a bad price for a decent pair of headphones, there are better options available for the same price.
Apple's in-ear headphones sound better than the company's EarPods, but users looking for better sound should look at other headphones from companies such as Sennheiser, Shure and V-Moda. Each headphone maker has in-ear headphones for around the same price that will sound better.