Apple sent me 40 SIM cards
My first inclination was think up a snarky, sarcastic headline, but then I realized there just isn't a more ridiculous way to state that Apple sent me 40 SIM cards than to flat out state: Apple sent me 40 SIM cards.
As you may have read earlier, I had a semi-interesting Day Zero with my iPhone 4. Short version: I could not activate my new iPhone that morning so I called AT&T for support, got my old phone deactivated, then got my new phone activated at the Apple Store. Thought all was settled but later that day I got this email from Apple.
To Our Valued Apple Customer:

We appreciate your recent iPhone purchase at the Apple Online Store.

While Apple strives to ship every product without error, our records indicate your iPhone shipped with a defective SIM Card. If the SIM Card is defective, you will not be able to activate your iPhone.

To resolve the issue, we are sending you a replacement SIM Card via overnight shipping. To track your replacement SIM Card please visit our online Order Status page at www.apple.com/orderstatus .

Once you receive your iPhone and replacement SIM Card, remove the defective card from your iPhone and insert the replacement. Then, simply connect your iPhone to iTunes to complete your activation.

For assistance changing the SIM Card, please contact AppleCare at 1-800-MY-IPHONE (1-800-694-7466). Our iPhone technical support team is available from Mon-Fri 4:00 a.m. – 9:00 p.m., or Sat-Sun 6:00 a.m. – 6:00 p.m. Pacific time.

We apologize for any inconvenience this may have caused, and appreciate your business.

Thank you for shopping at the Apple Online Store!

Sincerely,
Apple Online Store Team
I was a bit puzzled since my SIM card seemed to be working fine after being activated and is still working. Maybe there was some secret defect I couldn't see? Regardless, I didn't think it was necessary to send me a new card (easy enough to get a replacement at the AT&T store), so I sent back this response.
Thanks Alexandra, but I actually got my iPhone working after a call with AT&T and a trip to the Apple Store. Seems to be working perfectly.
While I didn't explicitly state to not send the card, I clearly expressed that I didn't think it was necessary. Still, I figured the order was already in, and I'd be getting a redundant backup SIM in the mail. No big deal.
Skip to today, I get a package in the mail even bigger than the one for my iPhone 4. I didn't recognize the name on the label (didn't come from Apple) and figured it was something else I'd ordered. Opening it, I pulled out the label to learn it was a post-paid SIM card, quantity 1. I laughed to myself at the absurdity of sending one credit card-sized unit in such a large box, further packed in a big folded up bubble envelope. Looked like another adventure in excessive packaging. It was only after I started removing the bubble envelope that I realized the weight was way off. Upon holding and unfolding the envelope, the holy high hilarious truth revealed itself.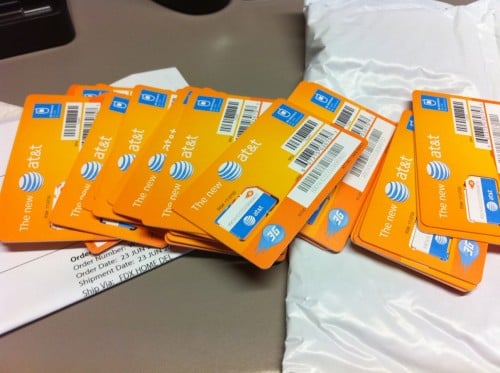 Yes, some genius (to borrow Apple's term) at an Apple facility went to fulfill my order (which I did not place), read the words "DO NOT OPEN MULTI-PACK SOLD AS SINGLE PIECE", and sent me one whole package of 40 SIM cards. This would be awesome if they were prepaid, but alas, they are postpaid, so the most I could do with these is provide my own SIM the next 40 times I sign up for AT&T… unless I want to sign up a new iPhone.
As you may be able to determine from the photo, these SIM cards are the old ones without the micro-SIM cut-out; they aren't pre-cut for what the iPhone 4 uses. So if there was a defect with my iPhone 4 SIM card, I'd need to cut one of these down to micro-SIM size myself in order to use it. So not only did I get 39 more cards than expected, but they're not even designed for my device.
If I did actually have a defective SIM (and my local AT&T store somehow ran out of SIM cards), I admit this situation would frustrate me to no end, but since my stuff already works, I find it downright riotous. Thanks for the laughs, Apple.
BTW, anyone have any good ideas on what to do with these cards? My first inclination is to return them to AT&T, but that might mess them up since these came from Apple. Meanwhile, Apple is phasing these cards out, so it's probably not worth it to them to get them back (not that they can't afford it). Any non-wasteful solutions will be appreciated. 40 fake bonus points* to the best idea. 40,000 fake bonus points* if you can come up with a better caption for that dumb dorky photo.
Update: Huh. I didn't realize people paid money for SIM cards in order to gain the privilege of paying money to AT&T. Just assumed AT&T handed them out to anyone who pays for phone service. In that case, these might be my backup plan in case Apple does not start handing out free Bumpers.
*Note: fake bonus points can be traded on a one-to-one basis with real bonus points, which are worth nothing.

This article may contain affiliate links. Click here for more details.