Apple Shipped More iPads Than All Others Shipped PCs
Apple announced today that they shipped more Apple iPads than their competitors shipped total PCs. Tim Cook bragged about their numbers with a graph showing 15.4M in the last quarter. HP was second with 15.1M and Lenovo had 13M. Dell and Acer rounded out the top five with 11.9M and 9.8M each.
Keep in mind that Cook compared iPad numbers with traditional desktop PCs and laptop. If you added Apple's MacBooks, iMacs and Mac Pros the difference between Apple and its competitors' numbers would be even more dramatic.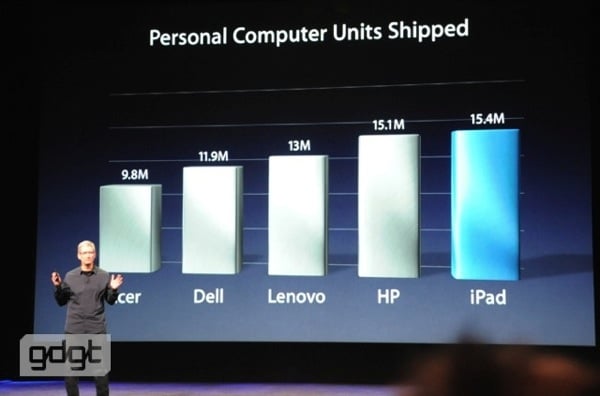 Apple was the only computer manufacturer to log growth in the last quarter of 2011. All of the other PC manufacturers saw a downturn. Tim Cook and his colleagues call the iPad a post-PC devices. These numbers seem to support that case. The original iPad was introduced two years ago and has so far been the fastest-selling Apple product of all time, eclipsing the iPod and iPhone in terms of initial sales figures.
image via gdgt.com

As an Amazon Associate I earn from qualifying purchases.