Apple: Siri Not Coming to Older iPhone Models
Apple has gone on record to say that Siri is a function only reserved for the current-generation flagship iPhone 4S and the personal voice assistant feature, deemed as innovative by many, will not be appearing on iPhone 4 or older models. The strategy is actually in line with what the software-maker has been doing for years with its smartphones by reserving one or two new, coveted features for the latest phone release in an attempt to force users who want the newest and greatest to upgrade to newer hardware.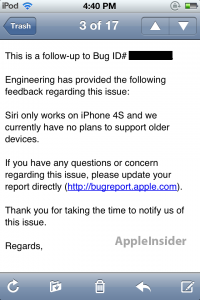 In an email message from Apple engineers responding to a bug report, Apple says, "Engineering has provided the following feedback regarding this issue: Siri only works with iPhone 4S and we currently have no plans to support older devices." The email was obtained by AppleInsider.
Despite unofficial support, jailbreakers have managed to hack Siri and ported the voice service to older devices. The service is still in beta and has limitations. More recently outages have plagued the service.
For its part, Siri represents Apple's attempt to break into the Internet search field and bypass Google on its own turf. Siri relies on Apple's servers and so Apple will not only have captured snippets of your own voice, but also what commands are being asked and what is most commonly searched for. Additionally, the search engine that powers Siri is Wolfram Alpha, which is a departure from the close Apple-Google relationship that was apparent when the initial unibody aluminum iPhone launched.

As an Amazon Associate I earn from qualifying purchases.