Apple Special Event Streaming Live on Apple TV, iPad & iPhone
Today Apple will finally unveil the long-awaited iPad Mini at an Apple Special Event at 10:00 a.m. Pacific, 1:00 p.m. Eastern and owners of the Apple TV and other Apple devices will get to see it live.
The stream requires a second-generation or third-generation Apple TV with software 5.0.2 or later, so be sure to update your Apple TV software if it doesn't meet the minimum specs. Apple also plans to stream the event to Apple devices like the iPhone and iPad as well as Mac computers.
Apple TV owners woke up to see a new icon on the home screen indicating that Apple will stream their special event live via the miniature set-top box. In the past Apple streamed some of their events live through their website, but they haven't done so in a while. For those in the technology press, Apple enthusiasts, and other lovers of tech who enjoy keeping track of these kinds of events, the live streaming is welcome news. We're no longer beholden to live blogs to get the news about all of Apple's new products and services.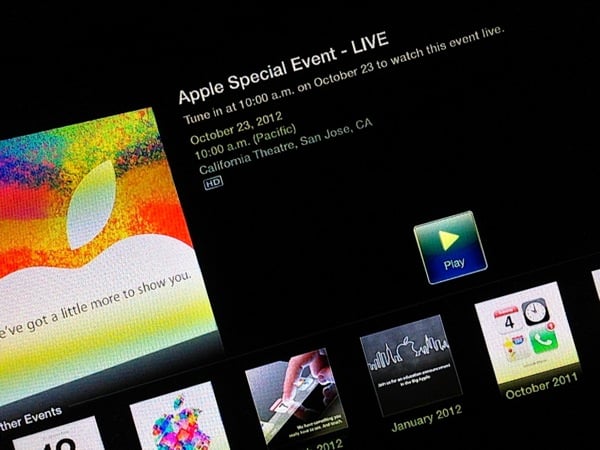 We expect Apple to announce the iPad Mini, but might see a few other things like the following:
Lots of bragging about numbers
We already shared ways to keep track of the live event online, helpful for those who don't own an Apple TV. We've also learned that Apple will stream the even to their own website. As always, GottaBeMobile.com will offer the best news and analysis before during and after the event.
A look at the Apple TV's Future
Now that Apple plans to stream this event live to the Apple TV, it opens up possibilities for other live events. Apple's new product announcements grab a large audience. This event will likely, not only feed the hunger of those who like to keep track of Apple release news, but could also serve as a dress rehearsal for possible future live events.
Imagine Apple offering more live events like the presidential debates, which they did offer on Apple TV via the Wall Street Journal Live Channel.  Could we see future sporting events or awards shows like the Oscars or Grammys? If Apple can handle something like this through the Apple TV, offering live commercial free events might draw new users to the Apple TV and a new revenue stream for Apple and potential media partners. Many people would pay to watch the World Series without commercials.
Apple's all about the hardware, so don't be surprised if their previously described "hobby" known as Apple TV becomes a much more important device going forward thanks to live events.