Apple Stock Hits Record High Weeks After Record Quarter [AAPL]
Apple stock price hit a record high of $464.98 today, a week after releasing Q1 earnings that beat Wall Street estimates.
After hitting $464.98 earlier today the stock price slid down to $$463, still up nearly $4 since the market opened this morning.
While Apple did not announce anything special today, the earnings call from last week is still fresh in the minds of many investors. Mos notably, Apple posted a quarterly revenue of $46.33 billion, a record high to go along with record high iPhone and iPad sales.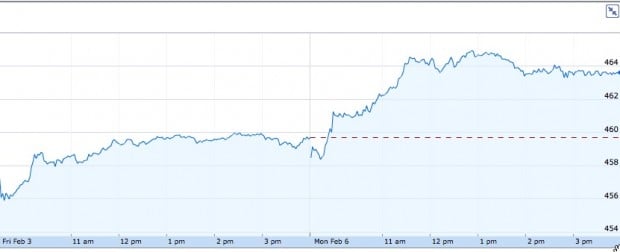 Apple sold 37 million iPhones and 15.4 million iPads during last quarter, as well as 15.4 million iPods and 5.2 million Macs.
During the past week, Apple stock price has jumped nearly $40. Check out the changes in Apple's stock in the last few weeks.
AAPL on January 3rd – $412.50
AAPL on January 24th – $425.10
AAPL on January 25th – $454.45
AAPL on February 6th – $464.98
If you had purchased a share of Apple stock for Christmas at a high of $403.59, instead of an iPad 2, you could have sold that share today and had enough leftover to cover the cost of one hell of an iPad app shopping spree.
Stock performance like this, and huge consumer demand, is one of the reasons I argued that Apple doesn't need to spend millions on a Super Bowl ad.
Apple's stock is still rated highly by many analysts and investors, even as the company is in the hands of Tim Cook, Apple's new CEO, who took over for Steve Jobs last year.

As an Amazon Associate I earn from qualifying purchases.