Apple Stock Down On News of iCloud, Lack of iPhone 5 Announcement (AAPL)
Right after Steve Jobs introduced iCloud, iOS 5 and Mac OS X Lion at WWDC 2011, Apple's stock prices reacted to the new services and the lack of an impressive , "One more thing," namely no iPhone 5, by dropping 4.57% or $5.40 by 4:30 pm.
Also dropping alongside new cloud competition was Google (GOOG) which sank .039% or $2.02, but Microsoft (MSFT) came out ahead for the day with a slight jump of .44% up $0.11.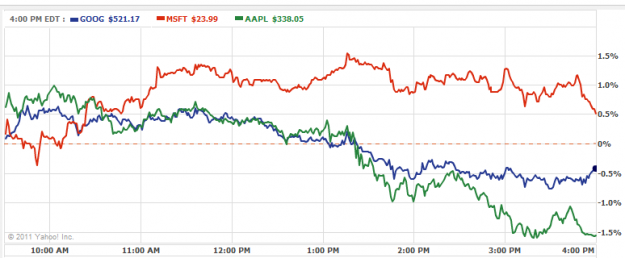 Apple stock prices typically take a hit right after major events, but given the lack of an iPhone 5 announcement, which has been the trend for the last 3 years it is surprising Apple (AAPL) didn't take a bigger hit from investors. This is also happening while Apple tries to deal with finding a Steve Jobs replacement, which could also be making investors nervous.
Based on past performance you should investigate more before selling, and now may actually be a decent time to buy Apple stock.
The author of this post is not a financial advisor and is not your financial advisor. Perform additional research before taking action on the news provided in this article.

As an Amazon Associate I earn from qualifying purchases.