Apple Store Goes Down Ahead of iPad 3 Announcement
As expected, the Apple Store has gone down ahead of today's iPad event where Apple is presumed to be announcing a brand new iPad. The tablet, expected to be called iPad 3 or iPad HD, will replace the iPad 2, which Apple launched in March of 2011. The iPad 3 is expected to have a high-resolution Retina Display that features quadruple the resolution of the previous iPad models along with 4G LTE connectivity and an upgraded camera.
This is standard procedure for any major Apple announcement.
Apple brings its online store down prior to product announcements in order to update it with the new product, in this case, a new iPad.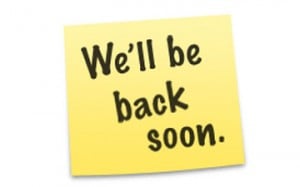 The store should go back up online once Apple CEO Tim takes the stage and announces the next iPad, which again, might be called either the iPad 3 or the iPad HD.
Read: iPad 3 Rumor Roundup: Latest on Features, Pricing, Release Date.
Apple's latest iPad is expected to feature a number of improvements over its predecessor, the iPad 2, a device that absolutely crushed the competition in terms of sales in 2011.
First and foremost, the Retina Display. Apple's new iPad is said to boast a new display that has 2048×1536 pixel resolution which blows away the resolutions found on the previous iPads.
It also supposedly features 4G LTE connectivity for both AT&T and Verizon's next-generation networks which means it will have data speeds that can get up to 10 times faster than those found on 3G networks.
The iPad HD/iPad 3 is also rumored to sport a new and improved camera, a design that's similar to the iPad 2, and a powerful new processor – possibly dual-core in nature – called the A5X. That processor will supposedly be backed by a greater amount of RAM although the exact amount is unclear.
Luckily, we should know all of the details in just a few short hours.