Apple Store Goes Down; New iPads Imminent
As expected, Apple's online store has gone down, most likely to make more room for new iPads and possibly some other nifty products. It's rumored that we'll see some new iPads, including a 5th-generation iPad and a 2nd-generation iPad mini. It's also possible that we may see new MacBook Pros, including an updated Retina model.
Furthermore, we will most likely hear about more details on the company's new Mac Pro, including a release date, as well as a release date for OS X Mavericks, which has been in beta all summer long, and has been heavily-rumored for a late October release date.
Of course, it's usually never a surprise when the Apple Store goes down before an Apple event, but it does confirm that we should be seeing some new hardware from the company today, and they're updating the website as we speak to most likely put all the new goodies on display for customers to pre-order or buy.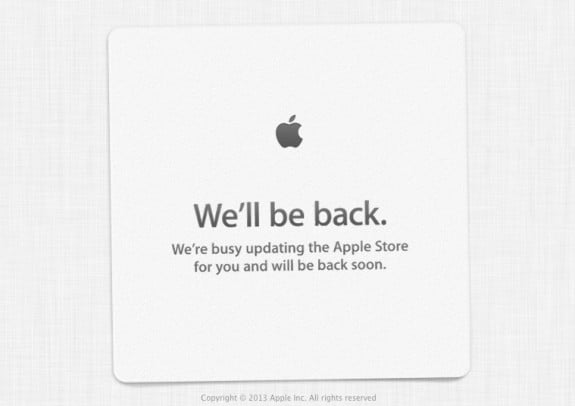 However, while iPads may be the star of the show, the accessories may be more popular, as it's rumored that Apple will unveil a keyboard cover accessory for the iPad line, similar to that of Microsoft's Surface Touch keyboard cover. We're not really sure how such an attachment would work on the iPad, but we're guessing it'll clip to the side of the iPad using magnets (like the company's current Smart Covers), and it will connect to the iPad via Bluetooth.
The iPad already has a keyboard dock of sorts, but it's not that portable, and it doesn't quite have the integration that it needs — certainly nothing like the Surface's Touch keyboard cover, so it's possible that Apple will up the ante and provide something better for iPad users who yearn for a physical keyboard.
Unlike last month's iPhone event, we're not quite sure when the new iPads will actually release to the public, but we're guessing it'll mirror last year's release timeline, where pre-orders start a few days later, and shipments going out at the end of the month, or possibly even the 1st or 2nd of November.
As always, though, we'll be bringing all the latest happenings to you live, and we'll be covering the event from start to finish, so if you're wanting to stay up to date on all the Apple news today, you're already at the right place; don't move a muscle!

As an Amazon Associate I earn from qualifying purchases.