Apple Stores Begin Targeting iPad at Children
Apple is beginning to more aggressively target its consumer-centric tablets at children with the iPad at the children's table at its retail stores. The space on the children's area at Apple stores was previously occupied by the company's iMac home desktop computer, which highlighted the versatility of the computer in handling educational software, games, and other digital content in a compact, all-in-one design. Now, according to recent changes at a number of Apple retail stores, the children's table is now occupied by four Apple iPad tablets according to a report on iMore.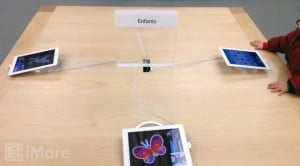 The move is unsurprising as Apple makes greater in-roads into the educational segment. The company highlighted with the lower $399 starting price point for the iPad 2 this year following the debut of the third generation tablet as helping to spur sales in the education market. With that news at its recent earnings call, Apple said that the company now sells twice as many iPad tablets to K-12 schools than it does Mac sales even though sales of the company's MacBook line continues to grow.
In Steve Jobs' post-PC era, it seems that the iPad tablet and children are a natural fit together as the tablet has been highlighted with educational titles, books, videos, and apps that help foster learn and growth in a fun and engaging way that traditional computers may not be able to deliver. With a lower starting price than traditional computers, the iPad can be a useful tool for families who may not otherwise be able to afford a regular PC. The post-PC era is here and Apple is targeting them younger to hopefully convince them to be life-long customers.

As an Amazon Associate I earn from qualifying purchases.