Apple Sued Over Automatic iOS 7 Update Downloads
A California man has sued Apple over the automatic downloading of the iOS 7 update onto his and his family's iOS devices. He claims that his devices are downloading the iOS 7 update automatically without his permission, and while the update doesn't install automatically, the download takes up several gigabytes of space on his devices.
The man filed a small-claims complaint against Apple CEO Tim Cook in the Superior Court of California in San Diego, asking that the iOS 7 install file be removed. We first heard about this issue last month, when several iOS 6 users reported that once they connected their devices to WiFi and a power source, iOS 7 would download the update file to users' iOS devices, taking up at least a gigabyte of space.
The update file doesn't install automatically, but for those that count on precious space on their mobile devices, it's not something that you want to deal with particular. However, despite all of the complaints, one man is taking matters into his own hands and will be taking Apple to court.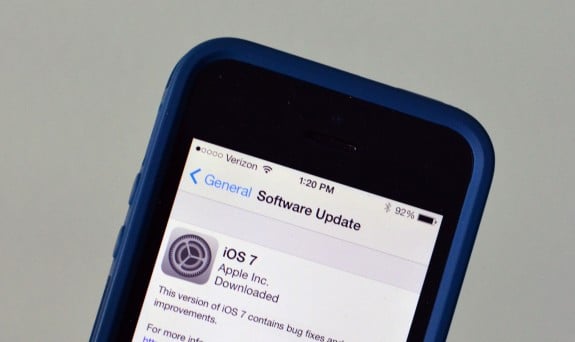 It's essentially an effort by Apple to get people to update to iOS 7, however, as it contains numerous bug fixes, as well as a new look and user interface that Apple thinks people will love, but it doesn't look like this guy is feeling it. His complaint says that "Apple's disregard for customer preferences in relation to iOS 7 is corporate thuggery…Steve Jobs was reportedly rough on company employees in pursuit of happy customers, but Tim Cook apparently cultivates a culture of contempt for customer satisfaction in pursuit of corporate profits. It is a policy that will eventually fail."
The man isn't looking for a lot of money as a reward, though. He simply wants to be able to remove the update install file from his phones, as well as $50 for his troubles. He is "considering" elevating the complaint to a higher court if things get a bit messy, as well as seeing whether or not there would be support for class-action lawsuit status.
iOS 7 has seen crazy adoption rates for iOS 7, but it doesn't look like everyone is on board with the update just yet. There are still a handful of users who haven't yet updated to iOS 7, which isn't too surprising, considering that it's a completely new mobile OS as far as the design goes, and sometimes, that's too much for some people to handle.