Apple Tablet Battery Life 2 or 3 Hours?…This Could Be a Problem
A lot of us have been taking stabs in the dark as we try and guess what features will/won't make it into the Apple tablet. But we're starting to see what appears to be credible specifics from people who've actually seen and used the yet to be announced iTab, iSlate, iNewt, iPad, device. Over the past few hours Jason Calacanis Tweeted about his experience with the Apple thus far. He's supposedly had it for the past two weeks and will be doing a media tour to show it off.
Some of the specifics he lists sound pretty cool. Who wouldn't want to watch or time shift HDTV on the go? Or use one of two built-in cameras for video conferencing? But there's one tweet that really got my attention: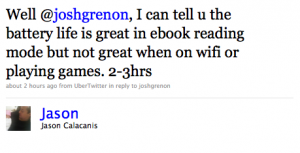 That's right, it lasts for only two or three hours when using the device for things besides reading. Tomorrow I fully expect an Apple spokesperson to proclaim something like "UP TO 10 HOURS of BATTERY LIFE….," which will be followed by rambunctious applause. But like all mobile devices, this claim will be based on best case scenario- in this case that means reading ebooks or magazines.
In this day and age do you think it's acceptable that a mobile content consumption device can only eek out two hours? I sure don't. I'm hoping that Jason's got a bum unit or is underestimating battery life, but I doubt that's the case.
Another problem is that if Apple holds true to its current design principles the tablet won't have a removable battery or extended batteries.
The guys at Mophie (or whoever else can design an extended battery sleeve) are going to be rich.

This article may contain affiliate links. Click here for more details.