3G Enabled Apple Tablet Set for Early 2010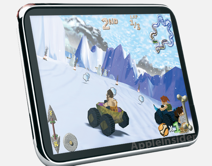 Apple Insider is reporting that the much talked about Apple Tablet is set for an early 2010 appearance.  The brainchild of Steve Jobs, the Apple Tablet will feature a 10″ touchscreen and 3G.  Apple Insider reports that Jobs had been working behind the scenes during his medical leave, maintaining direct control of the Apple Tablet.
Apple Insider states, "The past six months have reportedly seen the critical pieces fall into place. Jobs, who's been overseeing the project from his home, office and hospital beds, has finally achieved that much-sought aura of satisfaction. He's since cemented the device in the company's 2010 roadmap, where it's being positioned for a first quarter launch, according to people well-respected by AppleInsider for their striking accuracy in Apple's internal affairs."
Although it appears that the Apple Tablet is rumor no more, there are still many unknown variables.  There are many reports that both Apple and AT&T are unhappy with current relations.  Industry whispers are suggesting Verizon as a key player in offering 3G connectivity.  Another major question mark is what processor will power the Apple Tablet.  It was early suggested that Intel's Atom processor line might provide the juice, but it's looking like Apple's own PA Semiconductor will provide the power.  Read more and see detailed artist rendition at Apple Insider.

As an Amazon Associate I earn from qualifying purchases.