Apple to Announce iPhone 5 on October 4 at its Headquarters?
Apple will be holding its iPhone 5 press conference at its headquarters in Cupertino if the latest iPhone 5 rumor proves true. According to an All Things D source, Apple will be showing off the iPhone 5 for the first time in the company's small on-campus auditorium rather than the larger venues in downtown San Francisco it's used to announce other major products.
The Apple auditorium can only hold a couple of hundred people or so, limiting the number of journalists, analysts and others that can join Apple CEO TIm Cook when he officially unveils the iPhone 5. The Yerba Buena Center for the Arts auditorium can accommodate 500 guests, while the  Moscone Center's halls can seat several thousand.
So why would Apple choose a relatively small venue for holding such a major event? Simple – the company doesn't need to have a massive audience in the house to generate massive media buzz. The company will likely invite a range of mainstream and technology industry press with sizable and/or influential audiences. Apple will not starve for press attention regardless of how small the official media event is.
I've attended Apple media events both at its Cupertino headquarters and the San Francisco conference halls. While the larger events are more raucous, it's not like the world ignored any of the smaller media events.
Another reason Apple doesn't absolutely need to have a big iPhone 5 press conference where hundreds or thousands of journalists get to go hands on with the device is because Apple will likely begin selling the iPhone 5 on October 14 or October 15, less than two weeks after the rumored announcement date. This is a lot different from what we see with other smartphone manufacturers, whom often string consumers on for several months between announcing flagship phones and putting them up for sale.
The latest rumors peg the official iPhone 5 announcement date to Tuesday October 4, which is consistent with the day of the week of other major Apple media events. Apple  has apparently blocked retail employees from taking days off the second week of October, which coincides with the rumored release of iOS 5, Apple's new mobile operating system, and the iPhone 5.
https://www.youtube.com/watch?v=LLJIef-e-7g&feature=player_embedded
Above is a video preview of iOS 5 features. The new mobile operating system is as important of a release, if not more so, than the iPhone 5.
(READ: iOS 5 Release Date and What to Expect from iOS 5)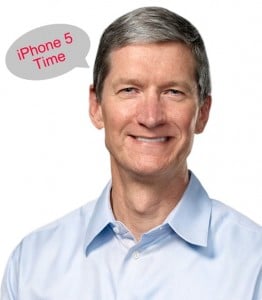 As we've mentioned before, there will be a lot of demand for the iPhone 5 regardless of what features it has. It's been 15 months since Apple began selling the iPhone 4, which means there's a lot of happy iPhone customers who are eligible for subsidized upgrades. New iPhone typically cost $199 or $299 with a new two-year wireless contract or $499 or $599 without a new contract. With previous iPhone releases, most iPhone owners were not eligible for subsidized upgrades. Carriers, such as AT&T are already accelerating iPhone upgrade eligibility to just before the rumored iPhone 5 release date. October 13 seems to be the magic iPhone 5 eligibility date for at least some AT&T customers.
Apple CEO Tim Cook will be taking the stage for the first time in his now-permanent role. He will likely brag about how many copies of iOS 5 were installed in the first days of availability, the number of iPhones sold to date and other milestones before unveiling the iPhone 5. It's also become customary to unveil iOS device accessories at these Apple events. Apple introduced the Smart Cover during the iPad 2 announcement and the Bumper Case when it introduced the iPhone 4.
We wouldn't be at all surprised if Apple introduced other hardware to ride on the iPhone 5's coattails. It's been over a year since the current-generation iPod Touch was introduced. Apple's October media event will likely be its last of the year and its last shot at launching products before the holiday season kicks off. This is the first time Apple's announced an iPhone just before the holiday season.
No matter where and when Apple announces the iPhone 5, we expect to see long lines for the device. According to our recent survey, 44%  of iPhone 5 buyers plan on lining up for the new Apple devices instead of ordering them online.

As an Amazon Associate I earn from qualifying purchases.