Apple To Bring Back Missing iWork Features
We've heard this song and dance before. The beat and melody are the same, but the lyrics are just a little bit different. Responding to a wave of user complaints, Apple announced today that it was going to be adding back some features that had been stripped from its latest update to its Mac iWork suite of Apps. iWork includes Pages, Numbers, and Keynote. Apple has acknowledged that it took out some features in an effort to make the Mac Apps completely compatible with the iOS versions of those same Apps. The focus obviously was on making the mobile and desktop/laptop versions work in concert.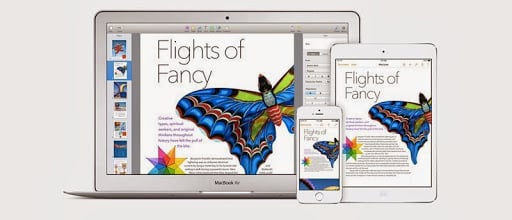 But the choir wasn't singing its usual "Good move, Apple" song. Users have complained loudly about the lack of some features. This comes when Apple has just made the iWork Apps free for the taking to all users, and certainly hopes to make some inroads into Microsoft's Office stranglehold on productivity Apps. iWorks has never really been a competitor to Microsoft Office and with both companies now offering these Apps free on mobile devices like the iPad and Microsoft's Surface Tablets it looked like a battle might be joined. But Apple's move to offer these Apps free on the desktop was a surprise move. Draw your own conclusions, but if Apple had charged for the new version, I'm sure the uproar would be much worse.
While it is understandable on one level that Apple needed to take a few steps back to move forward. Apparently many of Apple's customers didn't quite see things that way. Apple has detailed the changes as follows:
Some features in upcoming releases in the next 6 months
Pages
Customize toolbar
Vertical ruler
Improved alignment guides
Improved object placement
Import of cells with images
Improved word counts
Keyboard shortcuts for styles
Manage pages and sections from the thumbnail view
Numbers
Customize toolbar
Improvements to zoom and window placement
Multi-column and range sort
Auto-complete text in cells
Page headers and footers
Improvements to AppleScript support
Keynote
Customize toolbar
Restoring old transitions and builds
Improvements to presenter display
Improvements to AppleScript support
This isn't the first time that Apple has had to backtrack after removing features from one of its applications. After releasing Final Cut Pro, its professional film editing application, many users were upset over features that were stripped out. Apple relented and began adding those features back.
In the meantime, for iWork users, Apple reminds them that they can still use iWork 9, which contains the missing features. The new version of iWork installed alongside of iWork 9 and did not replace it, if it already existed on a user's system. Apple offered instructions on how users of the new Apps can revert those documents back to the old format.

As an Amazon Associate I earn from qualifying purchases.