Apple to Drop Microsoft's EasyPay System for Point of Purchase at Apple Store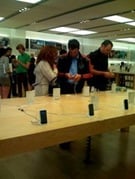 If you've ever been to an Apple Store, one of the intriguing paradoxes you'll discover (assuming you make a purchase and assuming you pay attention) is that the roving clerks who check you out with their little hand held devices are using a system based on Windows Mobile that uses a customized PDA and software called EasyPay.
It looks like that is going to change though once the next generation of the iPhone software rolls out. One of the promises of iPhone 3.0 software is that it will allow customized hardware solutions (read credit card scanner) to work with software on the iPhone or iPod Touch via the Dock Connector or Bluetooth.
Apparently we'll start seeing this in Apple Store's this summer and fall.
Via AppleInsider

This article may contain affiliate links. Click here for more details.