Apple to Offer a New iPad Smart Case to Cover iPad Back
Apple added the new iPad Smart Case to its online store after introducing new MacBooks and iOS 6 at WWDC 2012,  The case looks and functions a lot like the old Smart Cover but adds the one thing we wished it originally had: rear protection.  It works with the New iPad (3rd generation) and the iPad 2.
The new case costs $49 and comes in six colors (light gray, dark gray, blue, green, pink and red). It's made of polyurethane, like the cheaper of the two Smart Cover models. Microfiber lines the front cover to keep the screen clean and to protect it from scratches just like the previous Smart Cover. It still has the magnetic wake feature and folds up into a triangle to turn into a landscape-oriented stand for either typing or viewing content on your iPad.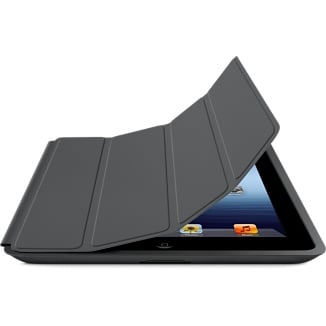 Instead of engraving the back of the iPad, which lowers its resale value, you can now personalize the case's back instead. Instead of paying extra for the engraving, Apple throws it in for free.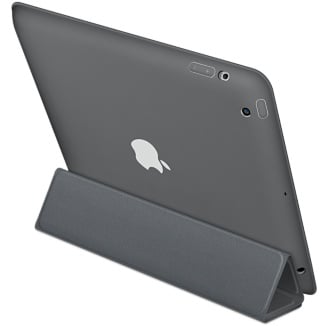 The case showed up on Apple's online store today and you can order it now. We'll get one in to test and let you know if its worth the extra $20 for the backing. If the quality of the case compares to the cheaper Smart Cover, you might be better off going with a third-party case instead.
I recently upgraded to the black leather iPad Smart Cover because I hated all the ugly Smart Cover colors but never could find a third-party case that gave you the same functionality without added thickness. The leather case feels better than the polyurethane Smart Cover so I'm disappointed Apple didn't make this one leather too. Also, the Smart Case only comes in the same ugly colors as the cheaper Smart cover, except for red. You can't buy a red Smart Cover unless you're willing to fork over an extra $40 for the leather model. They do, however, offer red in the new Smart Case. Other colors available in the leather Smart Cover that you can't buy in the new Smart Case include black, navy, cream or tan. Nor do they offer a leather version of the new Smart Case. I guess that will have to wait till the next update.