Apple Touts 475,000 Tablet Apps as Android Lacks
In case you missed the news this afternoon, Apple just announced the all-new iPad Air (iPad 5) and the newly improved iPad mini 2. With plenty of excitement around the new Air, even without TouchID, Apple quickly went from talking about the beautiful design and into what matters. That being applications.
The iPad is more than just a consumption device, and Apple knows that. Apps are key to having a successful device, as people need to actually want to use the slate. This is another area Apple and the iPad excels, especially when compared to Android. Today during the iPad event Apple confirmed a few rather impressive numbers when it comes to the sheer amount of tablet apps for iOS and the iPad. Boasting nearly 475,000 tablet apps are available from the AppStore.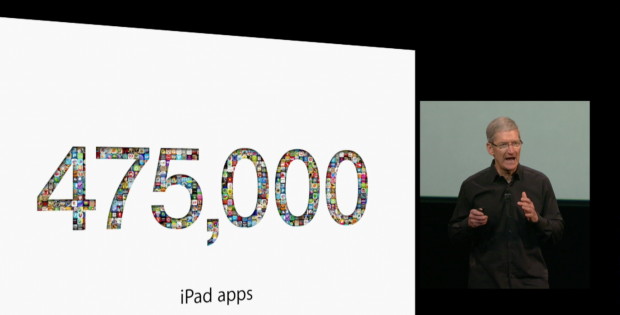 So how does Android stack up? It's hard to tell. One thing we do know though is the amount of apps, and the quality, when talking about tablet applications, is unmatched. Google's Android OS was late to the tablet game and arrived with the quickly forgotten Android 3.0 Honeycomb. Then out of necessity quickly upgraded to Android 4.0 Ice Cream Sandwich. Which as you all know, merged both the smartphone and tablet lineup into one.
No longer was Android smartphone and tablet apps fragmented once Android 4.0 Ice Cream Sandwich arrived. With that, Google has continued to improve the overall experience for both the end users, and for developers, to help increase the tablet ecosystem. Apps scale across the wide array of smartphone and tablet sizes, big or small. However, Apple still has a large lead in this area. Yes the Nexus 7 was extremely important and one of the best-selling Android tablets to date, not to mention all the good the new 2013 Nexus 7 will bring hasn't fully been revealed. But they still have work to do.
Read: Google Putting Tablet Apps Front and Center in November
While comparing sheer numbers isn't fully possibly, considering Google doesn't talk much about numbers when it comes to actual tablet apps, the picture isn't a good one. Android is still behind when it comes to tablet apps, even if hundreds of thousands of Android apps are "tablet-optimized," and Google knows it. As you can see from the link above, Google's making a huge effort to drive the Android tablet market forward. With stunning and budget friendly devices like the Nexus 7, to promising developers that their tablet apps will be front and center on the storefront.
Google's aiming to mix things up in late November. Promising center stage for many Android tablet apps. Which will not only help the ecosystem as a whole, but give more incentive to developers to create for it. The Google Play Store will have an improved and dedicated tablet section, not to mention all the different Top Free, Top Paid, and overall Top app lists Google currently offers will default to tablet options, for those using an Android tablet.
Today was a reminder that the Android tablet market, while growing and being hugely successful, still needs continued improvements in the app section to truly compete on a larger sale. Yes, recent numbers have more Android tablets sold than Apple's iPad, but the iPad gets used four times as much as Android tablets. At least according to Apple.

As an Amazon Associate I earn from qualifying purchases.