Apple Tries Out Big Ideas to Go After Samsung With 13-Inch iPad
Apple is rumored to be look at a wide diversity of screen sizes for its mobile iPhone and iPad products, according to the company's Asian suppliers. Apple may be testing iPhone models with display sizes larger than 4 inches and iPad tablets with screens at around 13-inch diagonally.
It's unclear if Apple will make these devices, a report on the Wall Street Journal says. Apple may be pressured into diversifying its product ranges to keep up with competition from Android where devices are available in a wide range of form factors and display sizes. Samsung, for one, offers a phablet–a smartphone and tablet hybrid with a display between 5 and 6 inches–and that's a product that Apple doesn't currently offer.
In its most current product lineup, Apple offers a 4-inch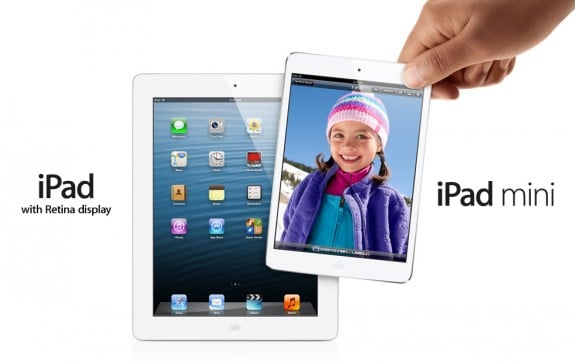 iPhone, a 9.7-inch iPad with a high resolution Retina Display, and an iPad mini that clocks in with a 7.9-inch screen.
The company has been rumored to be working on a smartphone with a 4.3- and 4.7-inch display in the past. More recently, a report also suggests that Apple may be experimenting with a sub-13-inch display for a rumored iPad maxi tablet that could be targeted at the educational market as Apple pushes more digital content, like e-books through the iBookstore and learning apps. With the overall decline of traditional PC and notebook sales, larger tablets could help Apple bridge the mobile and computing gap in the post-PC era that it helped to define.
The report for Apple experimenting with various display sizes comes ahead of production ramp ups for the next generation iDevice offering, which is slated to come this fall. Rumors suggest we may be seeing a re-designed iPad 5 with slimmer bezels and a design that mimics the iPad mini, an upgraded iPad mini with conflicting news on the Retina Display upgrade, and an iPhone 5S with subtle changes and largely the same design. A lower cost iPhone model is also expected to debut as well.
Proponents of smaller displays, especially where phones are concerned, maintain that the smaller form factor is both easier and more comfortable to hold while at the same time more ergonomic for use one-handed. Opponents argue that variety offers consumers more choice. HTC, another Android rival in the mobile space, has shied away from larger displays more recently with the HTC One being one of the more compact flagships introduced this year along with the HTC One Mini, boasting great specs but an even smaller footprint with a 4.3-inch display.