Apple TV Update Adds Bluetooth Keyboard Support
Today Apple released an update to the Apple TV which added a few new features, including the ability to use a Bluetooth keyboard with the set-top box and some iTunes 11 features.
The new update to the Apple TV gives uses an easier way to search on the set-top box. Now, instead of relying on the Apple remote to control an on-screen keyboard users can just connect any Bluetooth keyboard to the Apple TV to type. The added functionality will make it easier to set up new accounts on the device, and to search for media.
Users who don't want to use a Bluetooth keyboard can still use the Apple Remote app on any iOS device for text input. The Remote app lets users control the Apple TV from their iOS device with swipes and taps and lets them use the iOS keyboard for inputting text.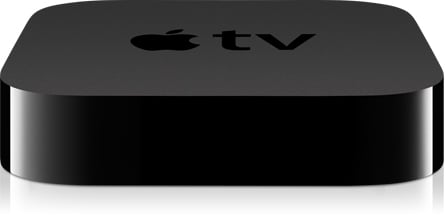 The Apple TV update also adds the Up Next feature that Apple introduced with iTunes 11. Up Next lets users see what songs will play next on their Apple TV. The feature lets users change the order, delete songs from the lineup or add new songs to the top of queue. The feature is useful for queueing up a single song when in the middle of playlist or album it isn't included in.
Another iTunes 11 feature is iTunes in the Cloud support. Now the Apple TV can stream any music users previously bought from the iTunes Music Store, similar to how previously purchased songs appear in the music library in Tunes 11.
Finally, the Apple TV can now send audio from TV shows and movies to other AirPlay devices with the new update. That includes AirPlay speakers, AirPort Expresses and other Apple TVs. The feature is most useful for users who have great AirPlay speakers, but sub-par speakers on their TV.

This article may contain affiliate links. Click here for more details.