Apple TV & Chromecast Rival From Microsoft Coming Soon?
Microsoft's Xbox One entertainment console is already competing pretty hard against set-top boxes and streaming devices like the Apple TV and Google's Chromecast dongle. If new filings unearthed this week are any indication, the Xbox One is about to get some back up in the form of a small circular puck that features Miracast streaming technology.
Documents filed by Microsoft with the Federal Communications Commission in the United States revealed the that Microsoft is working on a media adapter to rival other accessories in the space earlier this morning. Filed on August 19th the documents show a circular device that'll sit right next to user's televisions. Information in the documents also indicates that users can expect the dongle to connect to their television using a simple HDMI port. The device in question also includes a USB port, though it's unclear what that's for as of yet.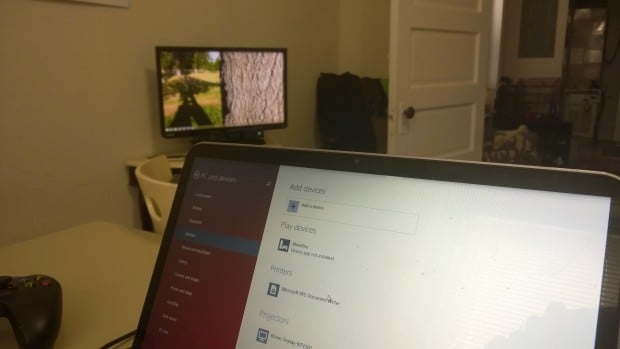 The documents also show that the dongle supports wireless internet technology for connecting to wireless networks and Wi-Fi direct, but there's no other information about specific scenarios that will use the technology. As such, we're left to speculate about how it'll function in relationship to other Microsoft-made devices. We do know that it supports Miracast streaming – something that strongly hints at this being a way for users to easily get video and audio to their television even without an Xbox One.
A cheap set-top box or streaming device from Microsoft is big news. First, tons of the software that Microsoft makes available directly to consumers supports Miracast functionality. For example, the company added Miracast technology to Windows 8 with the free Windows 8.1 Update late last year. That update alone made dozens of Windows powered laptops, tablets and portables compatible with the technology. For example, because of this update, Microsoft's Surface 2 and Surface Pro 2 tablets let users display whatever is on their device's screen wirelessly to their television.
Microsoft is in the middle of pulling the same trick with its Windows Phone 8.1 operating system update. Devices receiving it can also communicate with Miracast gadgets to display things on a user's televisions.
Second, a Microsoft-made Apple TV & Chromecast competitor is important because Microsoft is seriously behind in media streaming technology. Today, the Xbox One allows users to stream content from their computers directly to it, but only if they're using what Microsoft calls Play To. Play To is built into Windows 8 but hardly anyone knows about it because it's a Microsoft-made system. Only Windows 7, Windows 8, the Xbox 360 and the Xbox One support the technology. Windows Phone 8 uses the technology, but only lets users access it through the Nokia Play To app on select devices.
Having a cheap streaming box in the living room is absolutely crucial to Microsoft's survival in that space. It's Xbox One is now priced at $399. That leaves it at huge disadvantage when compared to the $99 cost of an Apple TV and the $35 Chromecast dongle. Both of these devices aren't as feature rich as the Xbox One, but it's safe to say that not everyone wants an expensive large machine just to stream their favorite YouTube videos over to their television set or watch Netflix.
Read: Microsoft To Announce New Lumia 830 Ahead of the iPhone 6?
One thing we don't know about this dongle is when it's scheduled to launch. The documents don't provide any guidance as to when Microsoft will launch the device. That being said, we can guess that Microsoft will show off the new dongle at IFA 2014, the upcoming European trade show for large consumer electronics companies. Microsoft is holding a briefing at the show on September 4th. Rumors also indicate that the company has plans to announce a new range of phone running its Windows Phone operating system.

As an Amazon Associate I earn from qualifying purchases.