Apple TV HD Ready to Launch with iPad HD on March 7th?
The Apple TV is one of the best accessories for the iPad, but if you go into your local Best Buy you'll have a hard time finding one in stock in the days running up to the iPad event scheduled for March 7th.
Next Wednesday Apple is holding an iPad event where we expect that the company will announce the iPad 3 or iPad HD, along with a new Apple TV.
Read: What to Expect at Apple's iPad 3 Event
We expect to see a new iPad with an incredible 2048 × 1536 resolution capable of playing back full 1080P HD video with beautiful clarity on a 9.7 inch display. But that's not all that Apple will announce. Based on reports of systematic Apple TV stock shortages and empty shelves Apple is very likely to introduce a new Apple TV.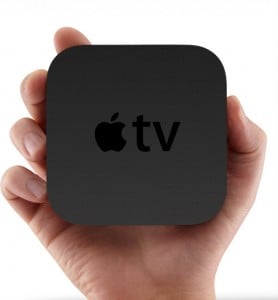 Why do we think Apple will announce a new Apple TV? For starters Apple has been purposefully keeping the Apple TV out of stock at third party retailers.
According to Apple Insider, "partners and channel members have seen Apple push back deliveries each consecutive week by one additional week — a practice that almost always foreshadows a formal discontinuation of a product ahead of new models."
If you really want to buy the Apple TV, and you try to have one shipped to the closest store, you'll find out that you can't pick it up until a day after the iPad event, which takes place on March 7th.
Combine these two facts with the rumor that the iPad 3, or iPad HD, will have a Retina Display capable of 1080P playback, and there's good cause to believe that Apple will announce a new Apple TV on March 7th.
The new Apple TV will likely be able to playback content at 1080P, and we might also hear about new features that will connect with AirPlay for Mac, which arrives this summer with OS X Mountain Lion.
Hopefully this alos means 1080P HD iTunes Downloads.
Depending which way Apple goes with the iPad naming, we might see the Apple TV 3 or the Apple TV HD announced on stage. We'll be there on Tuesday to let you know exactly what Apple announces.
Via Mac Rumors

As an Amazon Associate I earn from qualifying purchases.