Apple TV Inventory in U.S. Dries Up Ahead of Apple iPad HD Launch Event
Just days ahead of Apple's iPad 3 launch event, the company's physical retail locations are now mostly out of stock on Apple TV set top boxes as well suggesting that Apple may also refresh the set-top box to bring newer technologies to the streaming TV accessory. With 246 Apple retail stores, MacRumors noted that 98 percent were out of stock on the current model of Apple TV. The site counted only four Apple retail stores with Apple TV available for customers to pick up.
Advance of Apple's speculated Apple TV refresh, there have been speculations that Apple may refresh the model with a faster processor–the current generation Apple TV utilizes a single-core A4 CPU–along with Siri support, and perhaps even supporting 1080p HD video format playback. Rival digital content stores, such as Walmart's Vudu streaming service, supports both 720p and an a higher HD+ resolution streaming for increased charges, and with the iPad 3 soon to sport a Retina Display, HD+ streaming to both the portable tablet as well as Apple TV would make sense.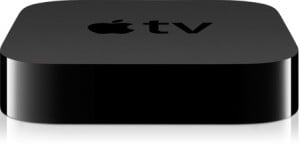 In addition to the companion set-top box, Apple has been rumored many times in the past to work on a standalone, fully integrated iTV television set that would come with a novel UI and the Apple experience. Most likely, iTV won't be ready to debut at the iPad 3 event.
While Apple's retail stores are depleting inventory of the Apple TV set top box, the company's online store is still shipping Apple TV with ship dates for the device as early as March 7, for next-day shipping, which would make the box arrive the same day as Apple's media event. It's unclear if Apple will begin shipping the new Apple TV boxes to those customers, or if it will ship the current model.
International Apple retail stores are still showing inventory for the Apple TV box.