Apple TV Jailbreak Release Teased
While we likely will never see an Apple TV 3 jailbreak, hopes are high for an Apple TV jailbreak for the new model, and it's actually already been teased.
The new Apple TV released back in October after being announced in September during Apple's iPhone 6s event. The set-top box unsurprisingly is a huge overhaul over the Apple TV 3 coming with an all-new user interface, as well as a brand new Apple TV remote that has a built-in glass trackpad.
The new device is also $50 more expensive than what a new Apple TV used to cost, but that was bound to happen with all of the new features added on, especially third-party app support and even the ability to play video games on the box as well.
Read: How to Set Up the New Apple TV
However, one thing that many Apple TV users are waiting patiently on is an Apple TV jailbreak for the new model, which runs a re-branded operating system called tvOS that likely contains a lot of the same code as iOS for Apple TV 3, but also probably includes a ton of new code that jailbreak developers could be sifting through to find a security hole.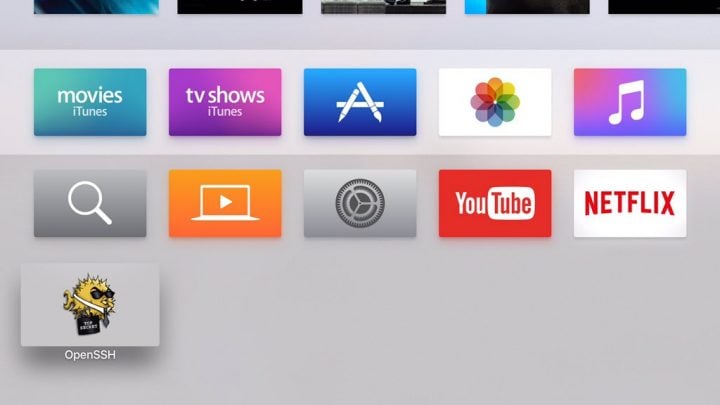 Luckily, it looks like that may have happened, as one renowned jailbreak developer has teased the possibility of what may be an Apple TV jailbreak.
Stefan Esser (who goes by the handle "i0n1c") posted a photo of his new Apple TV home screen on Twitter (shown above) that shows a successfully installed version of OpenSSH sitting on the home screen along with some other Apple TV apps.
OpenSSH is an app that essentially secures internet connections on devices that you have it installed on, and it's only available on jailbroken Apple devices through Cydia. Of course, since Cydia isn't available on the new Apple TV, it looks like OpenSSH was side-loaded onto the Apple TV in this particular instance.
Of course, it's important to keep in mind that Esser likely won't release the Apple TV jailbreak that he's discovered, as he hasn't released anything jailbreak-related in a while, even if he does discover new exploits.
However, another jailbreak developer who has at least shown some interest in jailbreaking the new Apple TV has provided some insight on the past about the possibility of a jailbroken Apple TV 4.
Kevin Bradley, who is known as nitoTV on Twitter (and the creator of the nitoTV jailbreak app, which was one of the first Apple TV jailbreak apps to release years ago), has said that he's confident that an Apple TV jailbreak will release for the new Apple TV, but doesn't really know when that will happen.
Bradley hasn't stated whether or not he's working on an Apple TV jailbreak himself, but we wouldn't be surprised if he was at least dabbling with it to come up with something.
In the end, an Apple TV jailbreak for the new model would be huge, and would completely change how the Apple TV is used. Plus, there's so much that you could do with a jailbreak, especially with third-party app support and gaming this time around. Plus, jailbreak tweaks for Siri on the Apple TV could be really cool.
Not only that, but being able to use other Bluetooth controllers like the PS4 controller would be huge. Essentially, there's quite a few things we'd love to see in an Apple TV jailbreak, but we'll actually have to wait for a jailbreak to release, which will hopefully sooner rather than later.