Apple TV Owns 1/3 of U.S. Connected TV Player Market
Though still considered a 'hobby' product for Apple, the company's Apple TV connected living room TV box that retails for $99 has sold nearly 4 million units and has propelled Apple into the leader of the connected TV player market with 32% market share.
Connected TV players, like Apple TV, Google TV made by third-party hardware partners, Roku, Boxee Box, Netgear, Western Digital, and others, offer customers an inexpensive and quick way to convert a regular TV into a smart TV to provide Internet access for streaming movies, downloading content, or load connected applications, games, or widgets onto their television sets.
Though Apple TV is more simplistic than competing models, Apple's simplicity may be the key to it selling more connected TV players than rivals who pack too many features that may confuse consumers.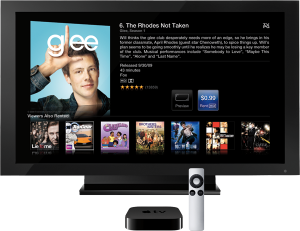 In  the U.S., only 8 percent of households have a connected TV player, but of that number, Apple has accounted for 4 million Apple TV sales of nearly 12 million boxes sold.
Apple TV was re-designed last year to make use of the iOS platform and move the connected set-top box away from the clunkier Mac OS X operating system. Though Apple has not allowed much in the way of third-party apps onto its Apple TV platform other than Netflix streaming and YouTube viewing, the potential is there for Apple to open up the platform and compete in the same space as dedicated living room game systems, like those made by Sony, Nintendo, and Microsoft.
It is speculated that in 2012, Apple may enter the HDTV market and build a smart television, rather than augment other TV sets with its box.
Apple also recently introduced the AirPlay feature to allow a connected ecosystem between its products to share content. Through AirPlay, Mac and iPhone users can stream their digital content to Apple TV to share that content on a larger display.
It'd be interesting to see how Apple will leverage the platform in the future, either as a standalone HDTV product or as a companion to an existing TV, and integrate apps and content.
Via: Apple Insider