Hulu Plus for Apple TV Arrives With Little Fanfare
Apple TV users have a new option to watch TV shows and movies with Hulu Plus.
Our Apple TVs received the new app this morning. The app appears front-and-center on the Apple TV as soon as users turn the device on. Launching the app opens a dialog menu that offers a free week subscription to the $7.99 per month service for new subscribers.
Strangely, Apple hasn't made an official announcement about the app just yet. We assumed the service was missing from Apple's set-top before because it would compete with Apple's service of selling TV show episodes and seasons, but now it looks like it was only a technical or licensing issue.
Update: Hulu wrote about the new app on its blog shortly after this write-up.
The Hulu Plus app looks like a natural fit for the Apple TV specifically. It uses a design similar to the older Apple TV with images on the left of the screen and a menu on the right. It's easy to navigate through, and arguably nicer than the Hulu Plus apps on the Xbox 360, PlayStation 3, and every other set-top box.
Hulu Plus offers users access to new TV shows and back catalogs of shows for $7.99 a month. The service doesn't offer every TV show, mostly just shows on NBC, Fox, ABC, and Viacom channels like Comedy Central. It has exclusives on the streaming rights for the catalogs of some TV shows such as House and Community.
Arguably its best use case, however, is for recent episodes of shows that come out daily like The Daily Show and Colbert Report.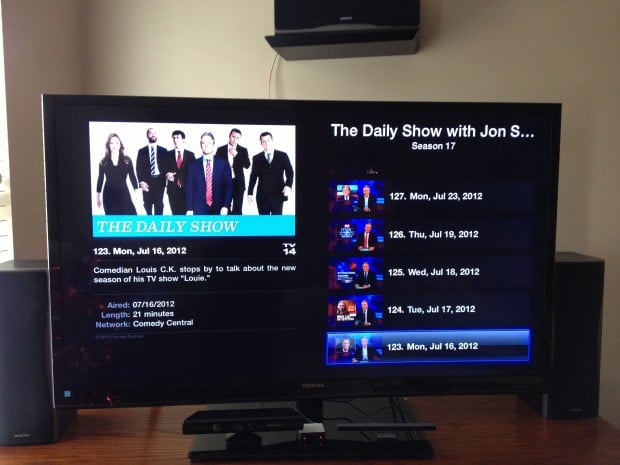 The streaming service also has deals with some movie studios like Sony Pictures, Warner Bros., and Paramount which offer a small selection of movies that in no way rivals Netflix or Apple's movie selections. It does offer the full Criterion Collection, however, which is great for film students or anyone else interested in film history.
Users that subscribe to Hulu Plus can also use the service on iOS and Android devices, assuming the app supports their device (which is a problem for early adopters of new Android devices).

As an Amazon Associate I earn from qualifying purchases.