Apple TV Refresh Likely at September 10 Event
New iPhones and possibly a new AirPort Express are already rumored to be unveiled at Apple's September 10 event, but the latest product to be added to the rumor mill is an update to the Apple TV.
According to supply and trade blog Panjiva, three bills of lading from the U.S. Department of Homeland Security show that Apple received three different shipments labeled as "Set Top Boxes" last month from one of the company's suppliers in China.
Based on Apple's lineup of products, "Set Top Boxes" most likely refer to the Apple TV, the iOS-based television set-top box that allows users to stream internet video content to their big screen in the living room. Plus, Panjiva recalls a shipment the last time there was a new Apple TV, with the shipment labeled the same "Set Top Boxes" as this most-recent shipment.
However, taking into consideration the weight of all three shipments, Apple didn't order a whole lot. All three shipments weigh in for a total of 89,000 lbs., so if an Apple TV unit weighs around 1 lb. each, that's only 89,000 Apple TV units that Apple ordered, which is a far cry from the two million units that the company sold last holiday quarter.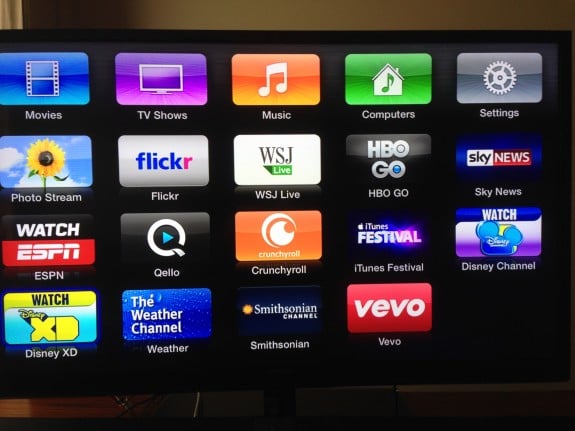 It's possible that this may just be a regular order of current-generation Apple TVs, but seeing as how the product is long overdue for a refresh and the event is just around the corner, we can't help but think that these are brand-new, next-generation Apple TV units. Furthermore, it's completely possible that Panjiva didn't get a hold of all the shipment records, so there could be a lot more Apple TV units that were shipped, plus more shipments to come over the next couple of months.
The last time that the Apple TV received an overhaul was in March of last year. It did get a quiet upgrade earlier this year, with the processor upgraded to the faster A5 chip, but the entire box is ready for a new look and new, faster internals. And with iOS 7 seeing its release soon, this new Apple TV may come running with the new UI as well, although the Apple TV has always been a couple version numbers behind the iPhone and iPad, so we're not holding our breath too much.
Regardless, Apple has been hard at work with the Apple TV as far as getting fresh, new channels on the device, including WatchESPN, HBO GO, Sky News, Vevo, the Smithsonian and Disney. More channels are said to be in the works.

As an Amazon Associate I earn from qualifying purchases.