Apple TV Remote Problems & Fixes
If you like the new Apple TV remote, but have some problems with it, here are some Apple TV remote problems and fixes that you should check out.
The new Apple TV has been out on the market for a few months now, and it's a huge overhaul over the previous model, coming with third-party app support, gaming, Siri capabilities, and a new user interface.
There's also an all-new remote that comes with a built-in trackpad, motion sensors, a Siri button, and dedicated volume buttons for adjusting the volume of your television right from the remote.
Read: 34 Apple TV Tips & Tricks
It's no surprise that the new Apple TV remote is much better than the old remote. The old remote remained untouched since 2007, so it was definitely due for an overhaul, and Apple certainly delivered on that.
However, the new Apple TV remote still comes with its issues. Here are some Apple TV remote problems and fixes that you should be aware of.
Remote Sliding Off the Coffee Table
It's pretty annoying when this happens. The slick aluminum on the remote allows it to slide fairly easily on any smooth flat surface, so it should come at no surprise when you discover that your Apple TV keeps sliding off the coffee table.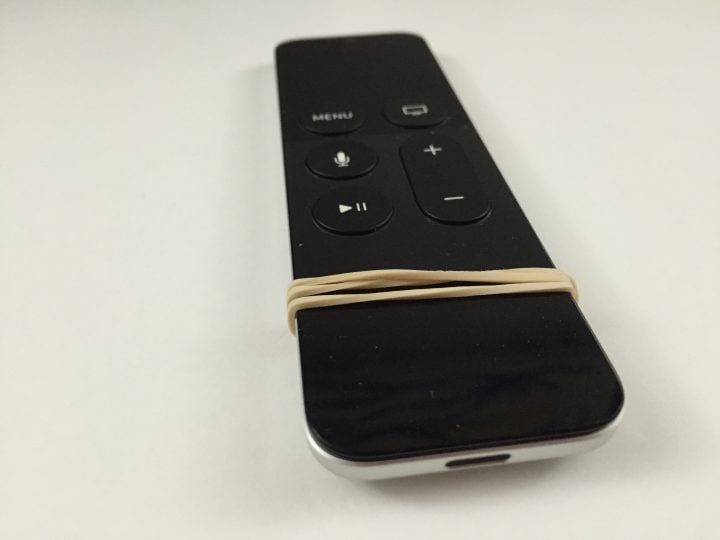 It won't necessarily break the remote, especially if you have carpeted floors, but it's just really annoying when it happens.
To prevent it from happening, simply place a small rubber band around the bottom portion of the remote. This not only gives the remote some grip so that it won't slide off, but
Lost Remote
Lost your Apple TV remote? This is one of the most common problems with the Apple TV remote, and it has always been a problem for as long as the Apple TV has existed.
The Apple TV remote is small enough that it can get lost pretty easily, whether it's in between your couch cushions or your dog runs off with it, a lost Apple TV remote is one of the biggest Apple TV problems overall.
One clever fix is attaching a Bluetooth tracker to the back of the Apple TV remote. These are small and thin pucks that you can attach to pretty much anything. One example is Tile, which has a built in speaker that you can activate from your smartphone, which theme emits a loud pinging noise so that you can locate your lost Apple TV remote, just as long as it's within Bluetooth range.
Accidentally Chucking the Remote
It's probably happened to you when playing Nintendo Wii, and it's bound to happen at some point with your new Apple TV remote (or it already has). You'll be playing a game that uses motion sensing and all of a sudden the remote flies out of your hands and into the wall as you swing your arm around.
It's a good way to break your Apple TV remote, and at $79 for a replacement remote, they're not cheap by any means.
Luckily, you can get a Remote Loop, which is a strap that you attach to your wrist so that the Apple TV remote doesn't accidentally fly out of your hands and break. It's only $13 and it's well worth the cost.
Trackpad Scrolling
One feature that myself and other users have come across is the trackpad on the remote. It's a great feature for sure, but it can take a bit of time to get used to.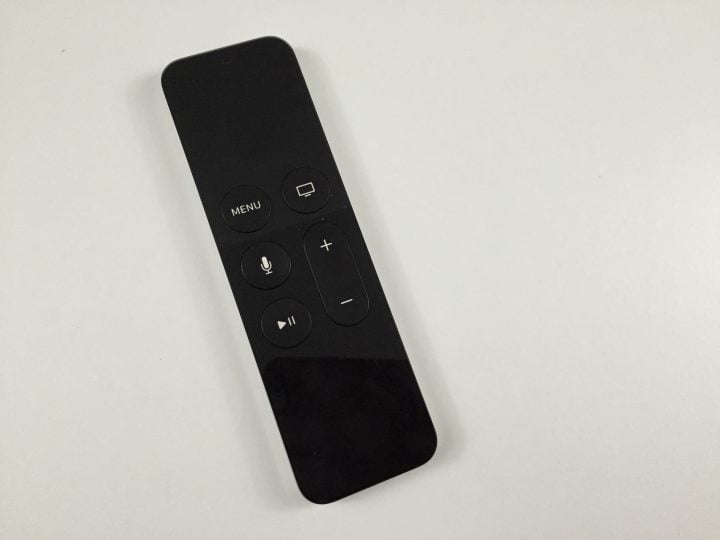 This is because the trackpad has acceleration built-in, which means that the faster you scroll on the trackpad, the more items you can scroll over. And the slower you scroll, the less items you can scroll over.
If the trackpad is too sensitive for you, you can't adjust the sensitivity, but you can change the speed of the acceleration. Go into Settings > Remotes and Devices > Touch Surface Tracking and you can change it to Fast, Medium, or Slow. Try each of them to see which one you like the best.