Apple TV Update Adds Shared PhotoStreams, New AirPlay Features
Apple TV users can now update their devices to software version 5.1 which adds a few new AirPlay features and Shared Photo Streams.
The new update doesn't dramatically change how the Apple TV functions, but it does make it easier to view shared photos on a TV. With Shared Photo Streams users can view photos that their friends with iOS 6 devices shared with them on the TV without having to use an iPad or iPhone.
Apple's latest update also adds new AirPlay functionality. With Software Update 5.1 the Apple TV can send audio to any AirPlay-enabled device. That includes speakers, an AirPort Express, or even another Apple TV. With this new feature it's possible to stream audio from the Apple TV to another room, such  as an iTunes Library, instead of draining the battery life of an iPhone or iPad with AirPlay.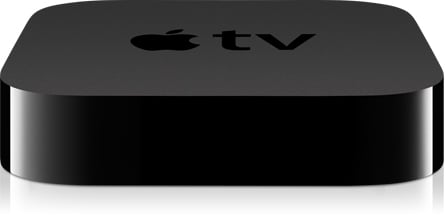 Also included is support for subtitles for the deaf and hard-of-hearing, new screensavers, iTunes account switching, the ability to rearrange icons on the second page of the main menu, and the ability to search for movie trailers.
Alone none of these updates are particularly groundbreaking, but together they add up to a great free update to the Apple TV. Many of the new features or changes are only useful to small niches of users, but there's most users will find at least one small new feature they'll want to use.
We're still hopeful that Apple will eventually release a version of the Apple TV with app support or content partners, but we don't know when that day will come, if ever. For now we'll just have to be happy with the Apple TV as it is: the best way to watch iTunes content on a TV and a great accessory for any iOS device.

As an Amazon Associate I earn from qualifying purchases.