Apple TV with 1080P HD Announced, Still $99, Available Today
Get ready to add a new Apple TV to your entertainment system.
Apple announced a new Apple TV today capable of playing movies and TV shows in 1080P HD, an increase from the latest model that topped out at 720P.
The new Apple TV brings one of the most requested Apple TV features, 1080P movies, but that's not all. The new Apple TV has an updated interface that makes it easier to get around and find the movies and TV shows you want.
No word on whether or not the updated interface will come to the existing Apple TV.
The new Apple TV looks much like the old Apple TV, which is perfectly fine with us. You'll love one other thing that Apple didn't change. The Apple TV is still just $99, making it one of the best values for an Apple product.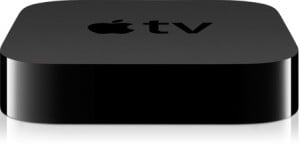 The new Apple TV sports the same connections; HDMI, Ethernet, Optical Audio and a Micro USB port.
We're waiting to find out if the Apple TV has an updated processor, and confirm whether or not 1080P will come to the old Apple TV.
In the box you'll find the same small silver remote, and sadly no HDMI cable.
You can start ordering the Apple TV today when the Apple store comes back online.

As an Amazon Associate I earn from qualifying purchases.