Apple Unveils a New iPad Smart Case for Front and Back
Cases and Covers for mobile devices are one of the ways that users show off their individuality and also their fear of damaging their device. It's quite a burgeoning industry that encompasses everything from gel skins, to keyboard cases, to slip cases, to, well, you name it.
Hidden in the weeds among Apple's new product announcements at WWDC today, new MacBook Pros, MacBook Air updates, and lots of talk about Mountain Lion and iOS 6, Apple quietly unveiled new Smart Cases for the iPad. Yes, that's a Smart Case not a Smart Cover. The Smart Cover was introduced with the first iPad and became a quick way for Apple to pick up a few bucks with each purchase of an iPad. Remember all the chastisements about the previous Smart Cover being a cover and not a case? Well, forget about that. The new Smart Case covers back and front, and according to the specs does most of the same work as the Smart Cover did, taking advantage of the magnet system. I'm guessing Apple will sell a ton of these.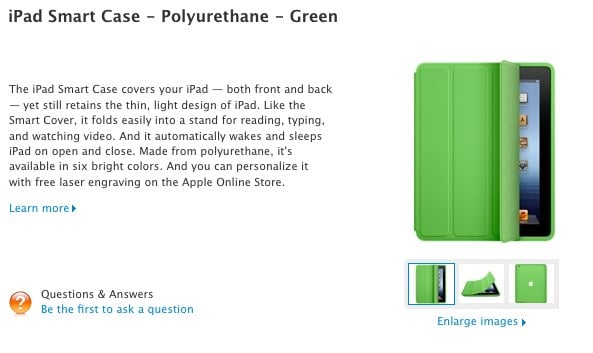 So, if you're looking for a case to cover up the back of your iPad, Apple will now sell you one for $49. The Smart Case is polyurethane and comes in 6 colors.