Apple Updates iMacs with Haswell, Faster Graphics and More
Apple has quietly updated its iMac line with several new improvements, including all-new Intel 4th-generation Haswell processors, faster graphics, 802.11ac WiFi, and improved flash storage. The entry-level 21.5-inch iMac now sports a 2.7GHz quad-core Intel Core i5 processor, as well as new Intel Iris Pro integrated graphics.
The higher-end 21.5-inch model now features a quad-core Intel Core i5 processor that clocks in at 2.9GHz, while the entry-level 27-inch model is clocked at 3.2GHz. Both models also come equipped with new NVIDIA GeForce GT 700 series graphics.
As for the top-tier model, it comes with a 3.4GHz Core i5 chip, 8GB of RAM, 1TB of hard drive storage, and NVIDIA GeForce GTX 775M graphics. All the iMacs also now support 802.11ac WiFi, which is an improved standard over the current 802.11n standard. Apple claims that when connected to an 802.11ac router, the iMacs can deliver up to three times faster wireless internet.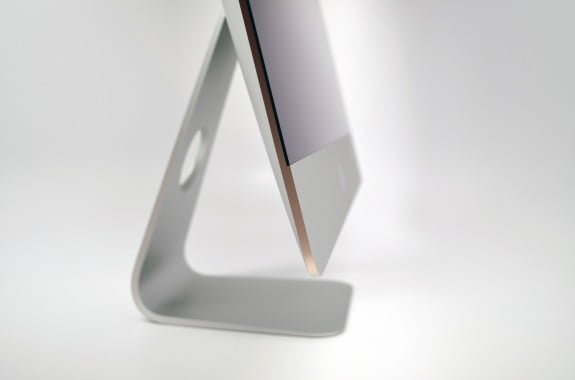 Of course, these are just starting specs, and customers are able to build their iMacs the way they want, adding their own processor and tacking on more RAM if need be.
As far as availability and pricing, the new iMacs are on sale today through Apple's online store, as well as at physical locations. Prices remain the same, with the entry-level 21.5-inch model starting at $1,299, and unlike the new iPhone 5s, the new iMacs aren't sold out and can be purchased easily, with a ship time "within 24 hours."
It's been rumored for awhile that we would see updated MacBook Pros, but we still have yet to hear anything on that front, and instead are treated to updated iMacs. It's possible that Apple is waiting to unveil new MacBook Pros during one of their media events that could take place next month, so we'll keep our fingers crossed until then.
The new iMacs will ship with OS X Mountain Lion (no OS X Mavericks just yet). Apple still has yet to set a launch date for Mavericks, although it'll most likely be later next month and could coincide with the launch of new MacBook Pros. Mavericks has been in beta for several months — ever since it was first announced at WWDC back in June.