Apple Watch Apps Arrive as Release Nears
A month before the Apple Watch is set to release to the public, app developers are already working on Apple Watch apps, and some have already updated their iPhone apps to include Apple Watch support.
Today looks to be the first day that Apple is approving Apple Watch apps, and while the Apple Watch App Store hasn't launched just yet, their respective iPhone apps are getting ready for the new smartwatch.
Apps like Evernote, Dark Sky, and Yahoo Fantasy have already been updated to support the Apple Watch, and if you go into the iTunes App Store to update these apps, you'll see the changes in their respective changelogs.
Other apps that have received Apple Watch support include Expedia, MLB At Bat, Target, Runtastic, Qantas Airlines, SPG, The New York Times, and the Wall Street Journal, as well as a ton more that will arrive in the near future.
You can update these apps at any time on your iPhone, but obviously, the Apple Watch functionality of the app won't work until the device releases and you pair it to your iPhone. Once the Apple Watch releases, the dedicated App Store in the Apple Watch app itself will open to the public, where you'll be able to browse and download third-party Apple Watch apps.
Buyers can pre-order the Apple Watch starting on April 10, either online or in-store. However, those that pre-order in-store will be able to try on the Apple Watch in order to find a size that works for them, making the in-store pre-order option a better choice for those that want the best fit.
There will be three different models of the Apple Watch with prices starting at $349 for the entry-level Apple Watch Sport, and then the stainless steel Apple Watch starting at $549, with the gold Apple Watch Edition priced at $10,000.
Most buyers will likely aim for the $349 Apple Watch Sport due to the lower price tag, but it will be interesting to see which model becomes the most popular. Apple will certainly have to compete with other smartwatches on the market, especially considering that Android Wear support could be headed to iOS soon.
The report says that Google could release an Android Wear iPhone app during its Google I/O conference in May, but it could also play it by ear depending how well initial sales are for the Apple Watch. Google could want to target an Android Wear iPhone app to those iOS users who didn't initially buy an Apple Watch, either because of the price, or because of the features.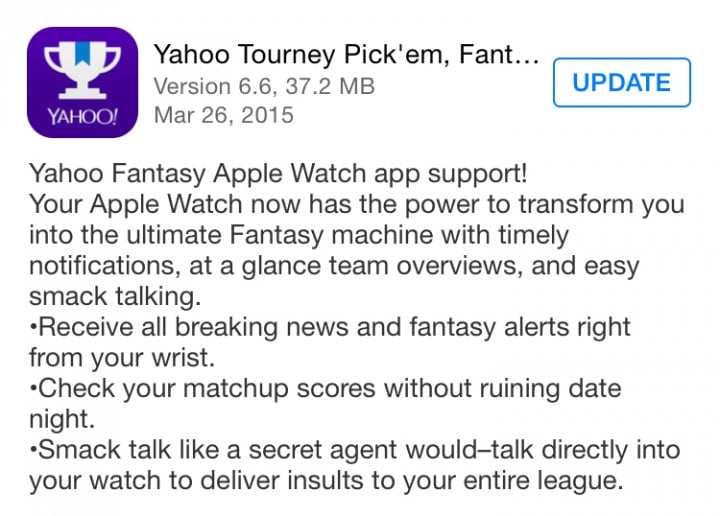 Apple announced the Apple Watch back in September at its iPhone 6 event and will officially release the device on April 24. The Apple Watch will start at $349, which is a bit steep, considering that you can buy a Moto 360 for $249. Because of this, if Android Wear support did come to the iPhone, a price war could be upon us fairly quickly, as some users may go with the cheaper option.
Furthermore, Android Wear smartwatches haven't been selling too well, so expanding support to iOS will increase Google's market for Android Wear, and could increase sales with iPhone and iPad users in the mix, considering the popularity of iOS devices.
In any case, we'll have to wait until May for Google I/O to kick off to see what the company plans to do about the relationship between Android Wear and iOS. Google already has a huge foot inside the iOS door, with plenty of apps to go around for iPhone users, including Gmail, Google Maps, Google Drive, etc. Adding Android Wear to the mix would certainly be a welcomed addition.

As an Amazon Associate I earn from qualifying purchases.