Apple Watch In Stores: 5 Things Buyers Need to Know Now
The Apple Watch in store release date is finally here with Apple watch in store pickup options available for select models at many Apple Stores in the United States.
Apple started the Apple Watch release over a month ago with online orders and no in-store Apple Watch release date to match.
Finally the Apple Watch in store release date is here, but there are some things that buyers need to know about the news from Apple.
Read: Apple Watch Review
The Apple Watch starts at $349 for the Apple Watch Sport, and $549 for the Apple Watch in Stainless Steel. The prices of the various models changes based on the band you choose.
Here is a quick primer on what buyers need to know about buying the Apple Watch in stores.
Apple Watch In Store Release Date
The Apple Watch in store release date starts today, June 17th, when Apple Stores open at normal times. Users can place an order online to pick up the Apple Watch at a nearby Apple Store with a scheduled appointment.
We still don't know when Apple will be able to deliver a walk-in buying option for the Apple Watch. If demand does not cover all the Apple Watch in store stock, you may be able to make an appointment while you are in an Apple Store for immediate pickup.
You Need an Apple Watch Reservation
Apple cautions that you need a reservation to buy the Apple Watch in store. Each morning at 8 AM local time you can search local stores for the Apple Watch you want to buy and reserve it for pickup at that store.
Read: 25 Exciting Apple Watch Features
The Apple Watch reservation system includes a warning that, "Due to high demand, it's possible this watch will become unavailable before you confirm your reservation"
Shoppers can search for one Apple Watch type at a time and see various Apple Stores with that model in stock. After you find the model and store you need to confirm an appointment to make it official.
How to Reserve an Apple Watch for In-Store Pickup
You can reserve an Apple Watch for in store pickup on your computer or on your iPhone, but you cannot call to reserve in-store pickup.
Go to the Apple Watch model that you want to buy in the Apple Store or in the Apple Store app on iPhone and iPad.
Click or tap on "Interested in buying in-store? Check reservation availability" to start your search. Choose the state you are in and then the store you want to pickup the Apple Watch at.
In our short tests not every store offers each Apple Watch in stock. You will see a clickable store location if it is in stock. Click on the store and then confirm the appointment time to start checkout.
Apple Watch In Store Stock is Good, Not Great
While it still takes a few weeks to get an Apple Watch delivered to your door, we located many of the Apple Watch Sport models in stock at a local Apple Store. We even located half a dozen stores in the area with the Space Gray Apple Watch Sport in stock.
The Pink Apple Watch Sport is only available at one local store and many of the Apple Watch Stainless Steel models are in shorter supply.
Read: 19 Thing You Didn't Know the Apple Watch Could Do
It is possible to check multiple variations very quickly, but once you know the one you want you should reserve it fast.
If the Apple Store doesn't offer the Apple Watch you want in stock, you can check again at 8 AM local time the next morning.
Apple Watch vs Apple Watch Sport
If you still need help deciding which Apple Watch model to buy, this guide on the Apple Watch Sport vs Apple Watch will help you. In this quick look, we share five ways the Apple Watch Sport is better than the more expensive Apple Watch.
5 Reasons the Aluminum Apple Watch is Better Than Stainless
Aluminum Apple Watch is Lighter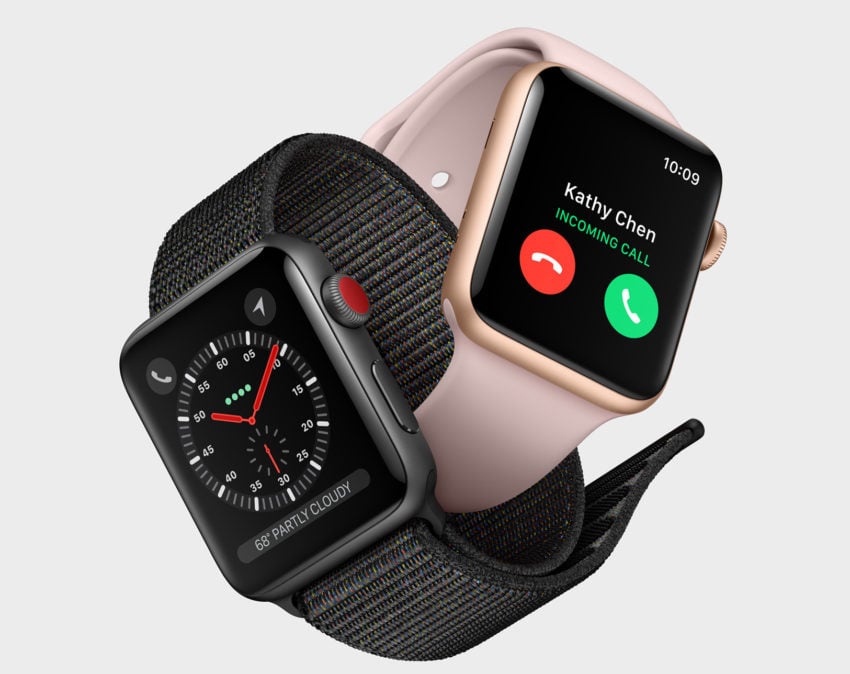 If you aren't used to wearing a watch and you want to work out, the aluminum Apple Watch is a clear win. The aluminum case is lighter which means you won't notice it on your wrist as much as the Apple Watch with a Stainless Steel case.
The aluminum Apple Watch weighs 26.7 grams in 38mm and 32.3 grams in 42mm. Cellular connectivity adds about 2 grams to the aluminum models. The Stainless Steel Apple Watch is 42.4 grams in 38mm and 52.8 grams in 42mm thanks to the heavier Stainless Steel.
With the Apple Watch 4, the aluminum model is 30.1g for the 40mm and 36.7g for the 44mm. The Stainless Steel model is 39.8g for the 40mm and 47.9g for the 44mm model.
The Apple Watch 5 in aluminum is about 10 grams lighter than the stainless steel models.
The Apple Watch 6 in aluminum is about 9 grams lighter than stainless.
A nickel weighs 5 grams, so if you want to feel the difference you can hold two or three nickels in your hand. It's not a major difference, but it will matter to some users. You can also try on the Apple Watch models at a store to see the difference for yourself.

As an Amazon Associate I earn from qualifying purchases.