10 Last Minute Apple Watch Pre-Order Tips
The Apple Watch pre-orders start tonight and we're here to help you prepare for what Apple expects will be a very fast sell out for Apple Watch release date delivery. You need to know more than just what time Apple Watch pre-orders start to score an Apple Watch tonight.
Yes, you can schedule an appointment to try on the Apple Watch on April 10th, but by the time you do this there is a very good chance you will not be able to get your new iPhone accessory on the Apple Watch release date later this month.
Apple announced that they expect demand to outpace supply of the Apple Watch today and another Apple source told Gotta Be Mobile to order online as soon as possible if we want one on the Apple Watch release date that arrives on April 24th.
Read: 7 Things You Can Do on the Apple Watch Without the iPhone
We're already seeing Apple Watch reviews that outline what's new, what's great and other details that you need to know, but if you want to find out for yourself an Apple Watch pre-order is in your very near future.
This is what you need to know about how Apple Watch pre-orders work and the tips you need to make sure you get one.
Apple Watch Pre-Order Start Time
The Apple Watch pre-order start time is midnight Pacific, so 3AM for much of the country. if you plan to pre-order the Apple Watch this is when you can start.
Pacific – 12:01 AM
Mountain – 1:01 AM
Central – 2:01 AM
Eastern – 3:01 AM
There is a very good chance that if you wait for the morning to arrive you will not get an Apple Watch on April 24th.
Get Ready for the Apple Watch Pre-order Before it Starts
The iPhone 6 pre-orders started a few minutes before the scheduled time, so it is a great idea to get online at least 15 minutes before the Apple Watch pre-orders start.
Read: Pick the Right Apple Watch Size
This will allow you to be ready in case the Apple Store comes back online a few minutes early and to make sure that you have your payment information ready to go. You can even log in to your Apple account now to make sure that you have the right password and the right address in.
Pick Your Favorites Now
Apple lets you choose your favorite Apple Watches now. You can do this in the Apple Store app or online. When you choose your favorites you will then be able to go to the favorites section when the Apple Store is back online and you can click Add to Cart without digging through the store pages.
Have a Backup Option
If you want to get one on the Apple Watch release date it is a good idea to have a backup option for your pre-order. Apple only offers a few Space Gray options and they may go fast. It's also possible that some of the Apple Watch versions will sell out quickly to users who want a specific band. Have a backup band option in mind if you absolutely want to buy an Apple Watch for delivery in April.
Use Apple Store App
Although it sometimes feels easier to make big purchases online the Apple Store app often works better than the Apple Store web version in big events like this.
Download the Apple Store app to your iPhone or iPad and sign in now. You can see your favorites, check the Apple Watch size and get ready to order.
Apple Watch Shipping
You cannot choose to pick up the Apple Watch in an Apple Store when you pre-order tonight. Apple will eventually sell the Apple Watch in stores and will very likely add a pick up option, but for now this is only available online for shipping to your home or business.
Read: Apple Watch for Lefties
Don't be surprised when log in and need to choose a place for the Apple Watch delivery. If you are shipping it to a new location, make sure it matches your billing address with the credit card company.
One Apple Watch Per Apple ID
You can only order one Apple Watch per customer. This is tied to your Apple ID and it prevents a reseller from ordering a dozen Apple Watches to resell on eBay and Craigslist.
If you need to order two, you will want to wake up someone else and have them go through the order process at the same time so that you both have a good chance of placing an order before deliver times start to slip.
Only From the Apple Store
When pre-ordering the iPhone you can go to your carrier and even some stores like Best Buy, but that is not the case here. The only place you can place an Apple Watch pre-order tonight is directly from Apple. Don't waste time calling or checking other websites for an Apple Watch pre-order or for any Apple Watch deals.
Order Apple Watch Chargers & Bands
When Apple first introduced the Lightning cable it was hard to find a replacement at the local stores. We may see a similar struggle with the Apple Watch charger. The Apple Watch charges with a magnetic connection that attaches to the back of the Apple Watch. This is specific to the Apple Watch so if you want one for your car, bag or travel, we suggest picking one up when you checkout instead of hunting for one later.
Apple Watch bands may also be in short supply right after the release, so if you know you want a specific band you may want to add it to your order or place a second order immediately so that you get what you want without a wait.
Apple Watch Return Policy
If you wait to try on the Apple Watch you won't likely get your pre-order in fast enough for release day delivery. You also can't pre-order two Apple Watches to reserve two models you might want. You need to pick your top choice and place the order.
You can cancel a pre-order without any penalty after you try on the Apple Watch. You can also return the Apple Watch within 14 days of delivery if you decide it isn't for you.
Check out what the Apple Watch can do in the slides below.
65 Exciting Things You Can Do With the Apple Watch
Answer Calls on the Apple Watch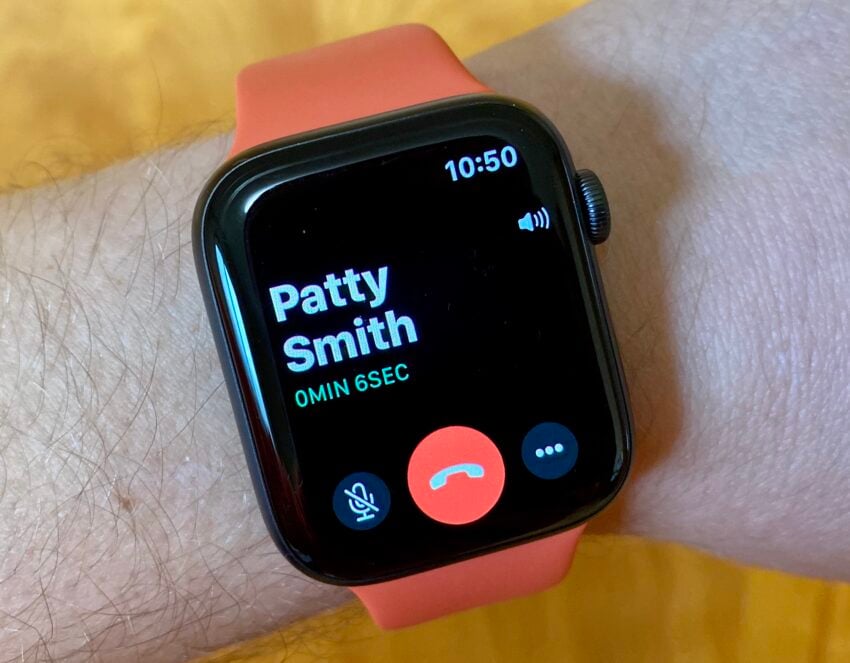 You can answer a call on your Apple Watch using it as a small Bluetooth speakerphone. You only want to use this for shorter calls because the audio quality isn't as good as when you are talking on speakerphone on your iPhone.
The Apple Watch only allows you to answer your calls on Speakerphone, so you won't want to use this all the time. It is very handy when you are working on a project or busy with your hands. Definitely be conscious of where you are taking calls. If you wouldn't talk on speakerphone, you shouldn't talk on your Apple Watch.
If you buy the new Apple Watch with LTE, you can even make calls on the Apple Watch without your iPhone nearby. This requires adding the watch to your plan for $10 a month. You cannot answer a FaceTime video call on the Apple Watch.

As an Amazon Associate I earn from qualifying purchases.