Apple Watch Pressures Competition to Lower Prices
Today after months of rumors and speculation Apple announced two brand new smartphones, but then surprised many by the unveiling of the all-new Apple Watch, not the iWatch. Rumors have been back and forth suggesting we could see an iWatch, while others have suggested it's merely a rumor and will never see the light of day.
Well, all those rumors have finally been put to rest as Apple's execs took the stage this afternoon and showed the world its take on a wearable device. It's completely different than all the rumors, renders, or concepts had many expecting, including the lack of a curved display or an innovative design like we're used to from the Cupertino company.
Read: Metal Moto 360 Release Date Emerges
It's no secret that any market Apple enters will cause the competition to have a little to worry about, as they've been wildly successful at nearly everything they've done so far. And while Android Wear has a strong lead being released in June, with the Apple Watch not expected to debut until 2015, the competition may already be feeling the pressure.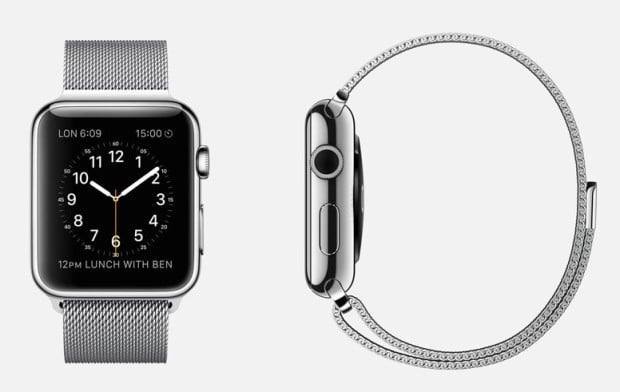 At the same time as Apple was on stage announcing its new smartwatch running a modified and tweaked version of iOS, the competition was lowering its prices. Originally $229, the original and first "Google Smartwatch" running the company's Android Wear OS, the LG G Watch, was lowered to $179 moments after Apple announced its own watch live on stage.
At Google I/O the LG G Watch and Samsung Gear Live were both announced, and released in the following days. However, they've not been quite as popular as many expected, and most buyers looking for a smartwatch were waiting on two things. One being the Moto 360, and the second being the rumored iWatch.
Read: 5 Android Wear Smartwatches Worth Waiting For
Over the past few months wearables have continued to gain popularity, and there's no signs that it will be slowing down anytime soon. Back in March Google unveiled Android Wear, it's Android-based operating system designed for wearables like Google Glass, or a smartwatch, and released it back in June as we stated above. For now it's still very much in its infancy and was designed to be an extension of your phone, rather than an entire OS, and more updates and changes are likely coming soon.
However, now that Apple has entered the space prospective buyers can expect pressure on the competition like Samsung, Motorola, LG, Fossil, and everyone else planning on making an Android Wear watch in the near future.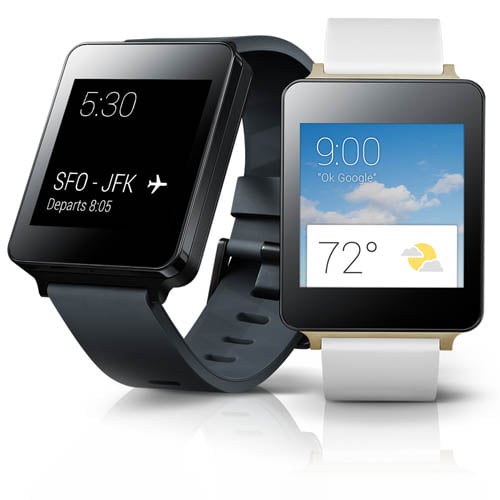 The Apple Watch is an interesting device. While initial impressions around the web are mixed, especially considering the design, Apple has a lot riding on the Watch, and have put forth a lot of effort into getting it ready for a launch in 2015.
Apple CEO Tim Cook says that the company didn't just shrink down the iPhone's user interface and strap it to your wrist. Possibly taking a shot at Android, even though that isn't what Android Wear is about. Instead, the touchscreen UI is much different on the Watch than on an iPhone. This is the same approach Google took, so we'll have to wait and see how it all plays out.
For example, instead of using pinch-to-zoom on the tiny touchscreen on the Watch, you use a small dial that you turn in order to zoom in and out while viewing maps. Pressing the dial, which Apple calls the "digital crown," will take you back to the home screen.
However it still seems like an entire OS that's been changed and minimized for the wrist, while Android Wear is more of an addition to your smartphone. There's no Google Maps on Android Wear, while Apple claims using things like the digital crown to zoom into a map or a picture is an evolutionary change to the OS, and how we'll use the Apple Watch.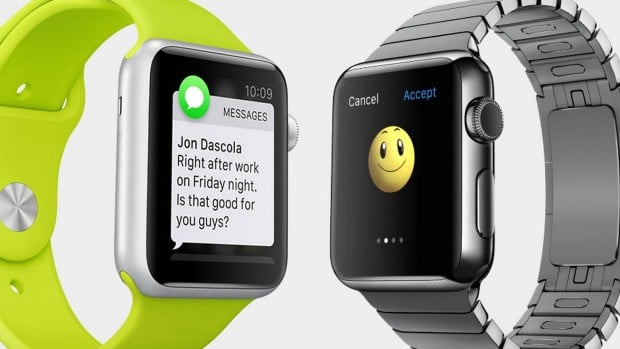 The Moto 360 was released late last week and sold out immediately online, from Best Buy, and the Google Play Store. It was priced at $249. The LG G Watch originally debuted for $229, but today was dropped to $179 ($50 savings) nearly at the same time as Apple announced its own wearable.
It could just be a coincidence, or LG is trying to move some product to make room for its new and improved LG G Watch R. It's too early to say for now, but we'll be watching the Android Wear space, and the Apple Watch closely to see how things progress as the 2015 release of the new "iWatch" approaches.

This article may contain affiliate links. Click here for more details.