Apple Watch Release Nears as Developers Start Making Apps
The Apple Watch is set to release at some point early next year, and the anticipation is continuing to grow as Apple has officially released its WatchKit software development kit, which allows developers to finally start making apps for the new smartwatch.
This software development kit arrives alongside the first beta to iOS 8.2, and it marks the beginning for app developers as far as developing apps for the Apple Watch, and the company says that WatchKit allows developers to "create innovative WatchKit apps, actionable notifications and Glances, for timely information accessible by an easy, quick look at Apple Watch."
While there isn't much information for general users to consume, the WatchKit does tell us the resolutions of each of the two Apple Watch models that will eventually release. Apple will launch a 38mm Apple Watch, as well as a 42mm model, with resolutions of 340×272 and 390×312, respectively.
Recent rumors have suggested that we'll see the Apple Watch launch in Spring 2015, according to a leaked internal message given to Apple Stores by retail employees retail senior vice president Angela Ahrendts.
In the message, Ahrendts says that Apple Store retails employees should be prepared for a "new watch launch coming in the spring." This goes slightly against what Apple has stated in the past, quoting an "early 2015″ release on its website, but considering that spring starts on March 20 next year, that can technically still be considered "early 2015."
Apple is usually known for launching big new products ahead of an upcoming shopping season, but the Apple Watch will be an exception, releasing at some point early next year. Valentine's Day would be the only other shopping season alternatives, but even that seems like a stretch as far as getting the Apple Watch to launch before then.
The Apple Watch will start at a steep $349 and will come in three different styles: Apple Watch, Apple Watch Sport, and Apple Watch Edition. There are still quite a few details about the device that we don't know about yet, including the obvious release date. Also, no word on exact battery life, although Apple CEO Tim Cook said himself that users will probably be charging the thing every day.
While the company has taken the "i" prefix out of the name, that doesn't mean it loses its Apple value. The device's design is very similar to that of Apple's other iOS products, and it even runs a modified version of iOS.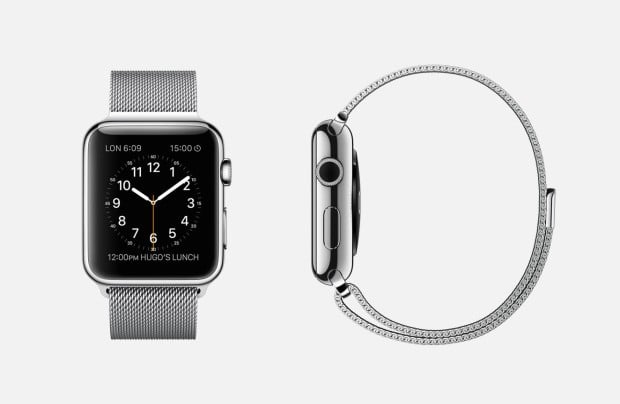 However, Cook has said that the company didn't just shrink down the iPhone's user interface and strap it to your wrist. Instead, the touchscreen UI is much different on the Watch than on an iPhone.
For example, instead of using pinch-to-zoom on the tiny touchscreen on the Watch, you use a small dial that you turn in order to zoom in and out while viewing maps or otherwise. Pressing the dial, which Apple calls the "digital crown," will take you back to the home screen.
The touch screen is a rather unique one. For starters, it uses sapphire glass, which was rumored in the past of course, but the display also senses pressure, which means that it can tell the difference between a "tap" and a "press," and it's essentially like the difference between a left-click and right-click on a computer mouse.
The Apple Watch is quite the fitness device as well, as it has a myriad of sensors on the bottom to record your heart rate and other vitals, and it borrows the GPS signal from your iPhone for running or cycling apps to use. It looks like it'll track your fitness activities better than most wearable devices can, but we'll have to test it out first before we make such claims.