Apple Watch Series 2 Pre-Order Date Confirmed
Apple announced their new iPhone 7, but not before they also revealed a new Apple Watch Series 2 and a pre-order date for it. The new Apple Watch 2 will come in most of the same styles but also features a new Ceramic White version. Apple added features appealing to runners and swimmers. It will run the new WatchOS 3 that's now in Beta but will ship soon. We've got all the details on the pre-order date and time and availability of the new Apple Watch 2.
The Apple Watch Series 2 now includes a built-in GPS, a great feature for runners who want to take advantage of the fitness tracking sensors built into the watch without carrying their iPhone. This means that someone can track their running route or get more accurate directions directly from their watch.
The new Apple Watch Series 2 also gets a faster dual-core processor. The current Apple Watch's single-core processor results in slow performance. Users often tap their watch and have to wait for apps to launch. Sometimes that is partly due to the app running on the phone instead of directly on the watch, but sometimes this is because the watch is too slow to run the app. The faster dual-core processor aims to speed that up.
The Apple Watch 2 will be water resistant, or, as the company called it during their announcement event, "swimming proof."
Apple Watch Series 2 Pre-order Date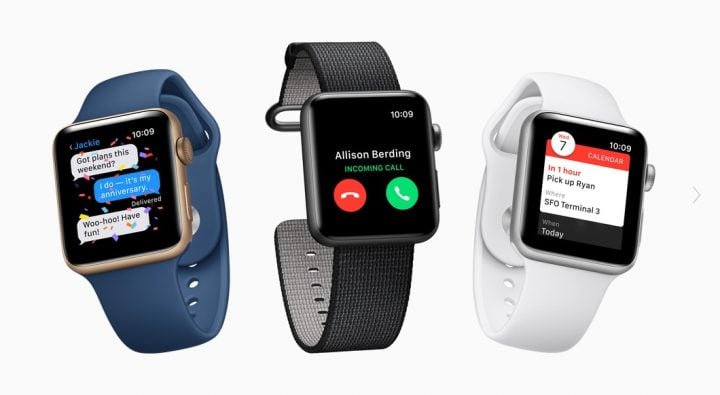 So, when will the Apple Watch Series 2 go up for pre-order? They announced that it would show up at 12:01 a.m. on Friday, September 9 on Apple.com and probably through their Apple Store mobile app. Buyers will get their new Apple Watch 2 a week later on September 16.
The Apple Watch Series 2 Pre-order time will start at 3:01 a.m. on the East Coast.
Should you wait up late on Thursday night into Friday morning to pre-order an Apple Watch Series 2? The watch won't likely sell out as fast as the new iPhone 7 and iPhone 7 Plus. However, if you have to get one on September 16, you should get your pre-order in as early possible. It's possible Apple will have some left available for delivery on the 16th when people order them during the day on Friday and maybe into the weekend. Don't count on it, though. You could also take your chances and show up at an Apple Store on September 16th and buy one on launch day, but you'll have to wait in a long line.
Apple Watch Series 2 Pricing and Styles
The new Apple Watch Series 2 pre-order will include a few different styles and prices. They silver aluminum, gold aluminum, rose gold aluminum and space gray available in the current generation of Apple Watch will sell for $369 for the smaller 38mm Series 2. The larger 42mm will cost $399.
The current model, now called Apple Watch Series 1, gets the faster dual-core processor, but no GPS or water resistance. It starts at $269 for the 38mm and $299 for the 42mm model. The Series 1 only comes in silver, space gray and gold. If you want the higher-end models, then you'll have to go for the more expensive Series 2.
The Stainless Steal Apple Watch 2 starts at $549 for the 38mm model and $599 for 42mm. It also doesn't come in Series 1.
A new Nike branded Apple Watch Series 2 will start at $369 and $399 for the 38mm and 42mm versions.
The Apple Watch Series 2 also comes with multiple watch band options. Some come at the base level pricing, but others will cost more. For example, the cheapest watch with a Milanese Loop band starts at $699 and a Hermes branded band for costs $1,499.
Finally, Apple added a new Apple Watch Series 2 with a White Ceramic case that starts at $1,249 or $1,299 for each size. They claim that the material is harder than aluminum.They don't seem to offer one made of real gold, like they did for the first Apple Watch. At up to $17,000, it likely didn't sell very well.
Get more information about the watch and pricing at Apple.com. Also, take a look at 29 Exciting Things You Can Do With the Apple Watch.

As an Amazon Associate I earn from qualifying purchases.