Apple Watch vs Moto 360: 6 Key Differences
This week Apple announced the highly anticipated and often rumored iWatch, simply called the Apple Watch. Tim Cook took the stage and announced the wearable device Apple's been hiding up its sleeve, and once it arrives in 2015 it will have a lot of competition from an array Android wearables, including the just released Moto 360.
Google's Android Wear operating system for wearable devices like a smartwatch debuted back in March, and was released to the public at the end of June. It's available on a few smartwatches today, including the extremely popular Moto 360. While wearables are just getting started, the Apple Watch and Moto 360 are two of the most exciting options for the foreseeable future.
Read: Here's the Apple Watch You Really Wanted
The Apple Watch received a standing ovation from those in attendance, but so far the initial consumer reaction has been pretty split. Is the square watch worth waiting for, or is the round and brushed aluminum Moto 360 a better buy? While each watch has plenty it offers, both only work with their own respective operating systems. Those being iOS, and Android. Below we'll rundown five or so key things that differentiates both of these new smartwatch options.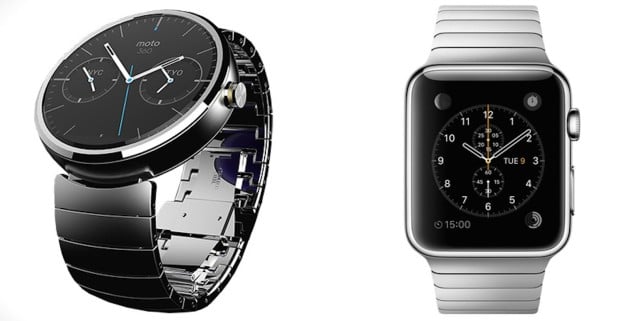 Of course a lot comes into play when buying a device, especially something that's also a fashion statement like a watch. Apple may have a better lead on that with its huge selection of colors, straps, and more for the Apple Watch, and we'll cover that and much more below.
Both of these stainless steel smartwatches look beautiful, feature wireless charging, and will only work on the OS you buy them for. Apple's needs an iPhone, and you'll need an Android device to enjoy the Moto 360. This instantly will make the decision for many buyers, but read on for a few key differences between these two devices.
Display
The first two Android Wear watches featured square displays similar to the Apple Watch, and they weren't very successful. The round Moto 360 was the most popular device out of the pack, and LG has already redesigned theirs to be round with the LG G Watch R. A square smartwatch looks like something out of a Sci-Fi movie, and sadly Apple chose that route.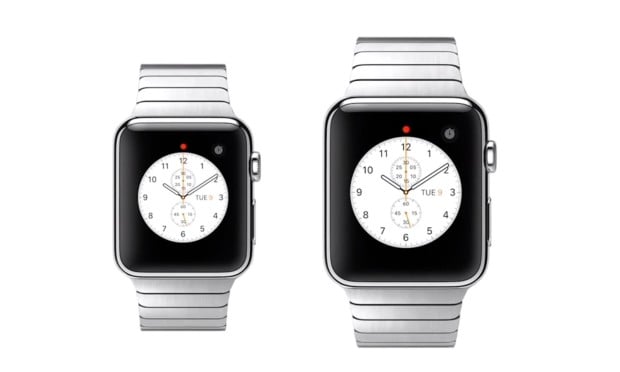 In my opinion, the round design of the Moto 360 trumps the Apple Watch. It looks better, gives it a genuine watch look, and just makes more sense. And that's something many Android users and manufacturers will probably agree on. That said, the Apple Watch is square, and unless something major changes we'll see two sizes (both being square) in 2015 when it gets released. Those being a 1.5-inch mode, and a bigger 1.65-inch Apple Watch. For reference, the Moto 360 screen is 1.56-inches, and round.
Read: Here's the Apple Watch You Really Wanted
While we weren't able to attend the event and get our hands on the Apple Watch, the display looks rather impressive, and many hands-on reports suggest it's quite nice. That being said, we still don't know what's all under the hood, or the resolution of those displays.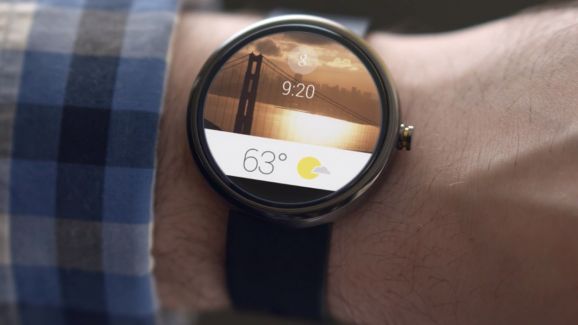 For now it's tough to say, especially because we haven't used one, and Apple only revealed a few small details about its wearable. For now though, the Moto 360 is available today while you'll be waiting until 2015 for the Apple Watch.
Design
The Apple Watch comes in two sizes as mentioned above, and thee options: stainless steel, anodized aluminum or 18-karat gold. The design all comes down to the display, and you know our feelings on that above. The square or rectangle shape isn't our favorite, and the Apple Watch looks a bit chunky compared to the sleek Moto 360. Then of course there is the dial on the side, which they're calling a digital crown, but more on that below.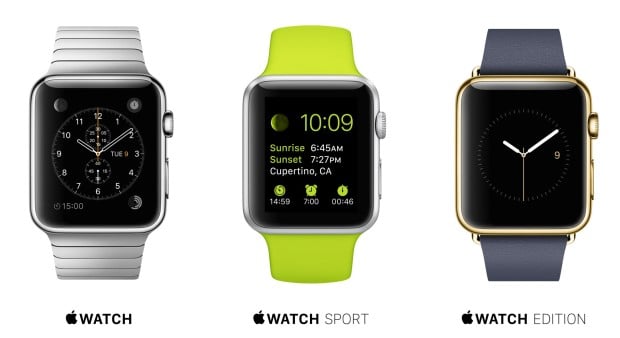 The key for Apple and its watch design is customization. Overall there's only so much you can do with the design of a smartwatch, for now, and our next category is the most important aspect of the Apple Watch.
Sadly many of the rumors painted a revolutionary watch with a curved display, or other crazy ideas that would have the Apple Watch blowing away the competition, like the iPod. It's too early to know if that'll happen, but personally, I don't see this first version doing so. The design looks rushed, and we won't even be able to buy it until 2015.
Straps & Customization
One thing that could make or break an accessory and wearable like a watch is customization, and Apple nailed this. The device is designed in that users (and 3rd party manufacturers) can change out the straps as much as they'd like. This is one major advantage over the Moto 360, and one of the only highlights from the watch announcement.
The Apple Watch has tons of different bands. This is important. Options such as leather, plastic, rubber, metal, and in tons of different shapes, colors and more. Even the clasps are all different. Some are magnets (like the Apple cover) and some are standard watch clasps or buckles. My favorite was the leather with magnets inside to fit any size wrist. That's really nice. There are so many options, and more will arrive from third parties, that this will be a big part of the Apple Watch.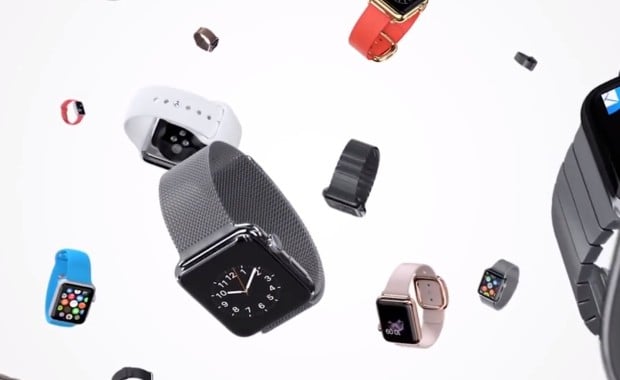 For now the Moto 360 only comes in two options. Both are stainless steel but you have a choice between black with a black leather strap, or silver with a gray strap. There's an all metal version coming later this month, and possibly other straps in the future, but Motorola's yet to make that official. Yes you can swap them yourself, but it won't be nearly as easy or seamless as Apple's Watch.
Software
What we're most unsure about is the software. While Apple has some genuinely neat ideas here, it's also quite cartoon looking and not very attractive. The digital crown will allow users to pan or zoom around in the user interface, and even zoom in on photos. Seriously though, who will be showing off photos on their watch, and not their smartphone? Just a thought.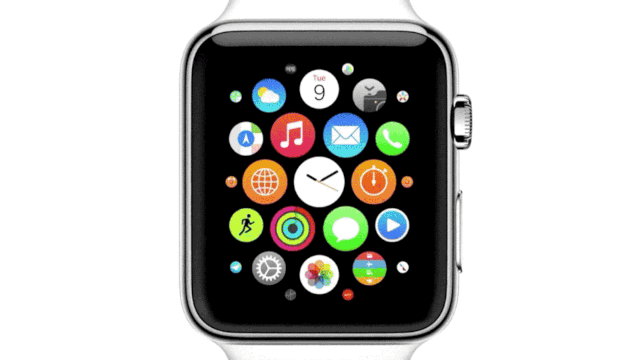 Here Apple shows dozens of apps and hundreds of photos all available. The problem here isn't the interface, but it's whether or not users will want to do that with their watch. Again, we'll have to reserve judgement for once it arrives, but this could be a problem for Apple. The point is leaving the display free of fingers, using the dial instead, so you're not covering content. Replying to messages and more will be easy, but we'll have to wait and see.
Below is a video of the Samsung Gear Live, but it runs the same Android Wear operating system as the Moto 360. Google designed it with ease of use, and more of an extension of your smartphone, rather than an OS itself. There's only certain thing you can (and will want to do) on a smartwatch. So we're not entirely sold yet on Apple's approach, or Google's for that matter. That being said, Android Wear is big, bold, and has large imagery and ease of use. Check it out.
We can see the interface being a major problem, as this is something Google took a long time to decide on. We've only seen a little of Apple's Watch UI so far, and surely it will change before being released in 2015. For an excellent comparison of Android Wear vs Apple Watch, check out this Ars Technica post.
Apple revolutionized smartphones with iOS, but so far we're no where near convinced with what they've shown us on the Apple Watch. Google wants to show you things before you ask, and make them easily dismissible with a swipe. We'll have to wait and see what all Apple has in store.
Battery Life
Battery life is a problem for all smartwatches right now, and we're hearing the same will hold true for Apple. The Moto 360 gets roughly a day of usage, if not a little more depending on multiple things. How many applications are pushing notifications, how bright the screen is, how much you use it, and more. We're hearing the same one-day battery life claims for the Apple Watch.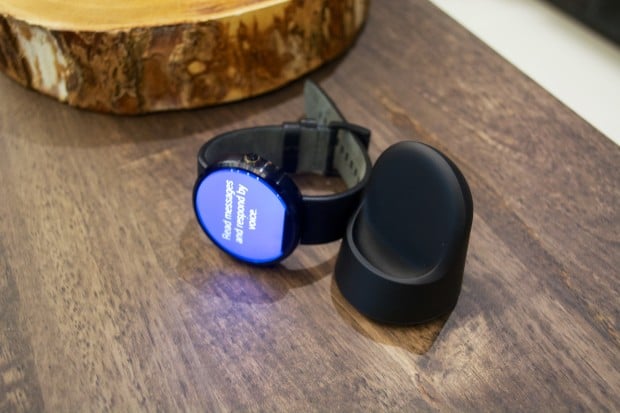 There's only so much you can fit inside of a device that small, so there is no clear winner here. Both watches sense when you turn your wrist towards your face and will light up to save battery, and both feature a simply wireless charging pad solution. There's not much more we can say on that for now.
Watch Faces
The Moto 360 comes with six traditional watch faces out of the box, but you can't customize any of them. There are tons on the Google Play Store though, and Google promises an easy way for developers to create beautiful faces in the very near future.
Read: Android Wear Brings the Matrix Code to Your Wrist
Apple debuted 11 faces out of the gate, and claims you can change them as you see fit. Again, it isn't available yet, so our understanding of what will be available is limited. A few of the faces were shown in the video and Ars Technica link above, and below is a screen of faces found by TechRadar.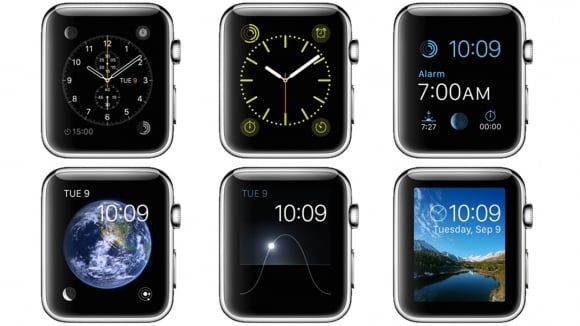 Apple claims all its faces can be changed and tweaked. From the look, color, design and more. Essentially saying millions of different looks are available. Don't worry Android users, as developers will continue to release tons of Android Wear faces too.
Price
Here's where things get a bit iffy, the price. Apple's Watch will start at $349. We're assuming that is the smaller 1.5-inch base model with a cheap band, and go up from there. This means users can expect to pay anywhere from $350 to nearly $500 for the Apple Watch, and maybe more for the gold option. That's an expensive device that doesn't do much, and is more of a fashion accessory.
The Moto 360 is available today for $249, and the all metal option is coming later this month for $279. Making it an obvious choice for those on a budget. Again if you use an iPhone you only have one choice, the Apple Watch, but the price was certainly worth mentioning.
Final Thoughts
We could go on and on about price, watch faces, the software or interface, and the apps that will be available. Both sides have hundreds of developers on board, fitness apps appearing by the day with more coming soon, and tons to offer. Truly though, it's too early to speculate on everything the Apple Watch will have to offer.
The same can be said about Android Wear. It's still in its infancy and hasn't received any major software updates yet, but Google promises tons of changes, improvements, and new features are all in the works. The Apple Watch is already behind the game, but the picture will look very different in early 2015 once it finally arrives.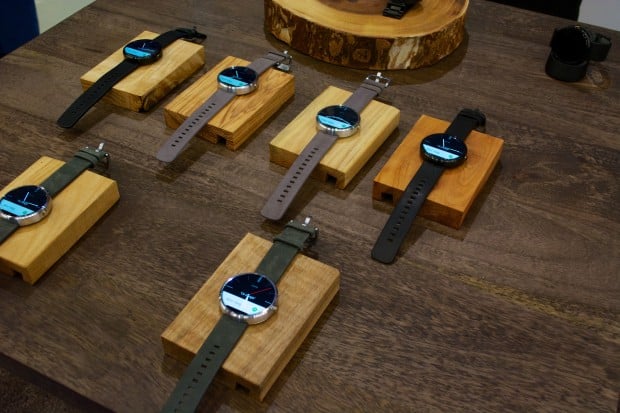 In the end though, you can't use both of these. You'll have to get an Android Wear watch like the Moto 360 if you have an Android smartphone, and you'll be limited to only the Apple Watch if you bought the new iPhone 6, or have an iPhone. This comparison is more of a guide to show what they both have to offer, for now, more so than comparing and helping users decide which to buy.
Stay tuned for more details, as we'll update as more and more information emerges regarding the Apple Watch, and as Android Wear progresses throughout the year.

As an Amazon Associate I earn from qualifying purchases.