Apple Watch: What We Know So Far
The Apple Watch is Apple's next big product, which is set for release at some point early next year. The company announced the Apple Watch back in September at its iPhone 6 event, and while it didn't provide every single detail about the new wearable, there are quite a few details that we know so far.
We thought we would never see the existence of an Apple wearable, but the company officially announced and unveiled the Apple Watch a few months ago, only instead of calling it the iWatch (as it has been named in past rumors), Apple has taken the "i" prefix out of the name, but that doesn't mean it loses its Apple value. The device's design is very similar to that of Apple's other iOS products, and it even runs a modified version of iOS.
However, Apple CEO Tim Cook says that the company didn't just shrink down the iPhone's user interface and strap it to your wrist. Instead, the touchscreen UI is much different on the Watch than on an iPhone in order to make it easier to use with the small screen.
While Apple has left a few details to the imagination, the company didn't shy away from revealing a handful of details during the unveiling event. Here's what we know so far about the Apple Watch and what we can expect.
Apple Watch Features
While the Apple Watch takes a handful of cues from other iOS devices, it's a wearable that practically redefines iOS in its own way. For example, instead of using pinch-to-zoom on the tiny touchscreen on the Apple Watch, you use a small dial that you turn in order to zoom in and out while viewing maps or other content. Pressing the dial, which Apple calls the "digital crown," will take you back to the home screen.
The user interface is still very iOS-like, though: you swipe to get different pieces of information, and swiping up from the bottom of the screen reveals customizable pieces of information, such as widgets. You can also look at your calendar from here and access your music.
The touch screen is a rather unique one. For starters, it uses sapphire glass, which was rumored in the past, but the display also senses pressure, which means that it can tell the difference between a "tap" and a "press," and it's like the difference between a left-click and right-click on a computer mouse.
The Apple Watch is quite the fitness device, as it has a myriad of sensors on the bottom to record your heart rate and other vitals, and it borrows the GPS signal from your iPhone for running or cycling apps to use. It looks like it'll track your fitness activities better than most wearable devices can, but we'll have to test it out first before we make such claims.
What's perhaps most impressive is that the Apple Watch will analyze the text of a message and will provide you with pre-determined answers to allow you to easily answer back with just a tap. Otherwise, you can talk to the device and have it translate that into text.
Other features include the ability to tweet from the Apple Watch and even unlock hotel room doors with a quick wave at select SPG hotels. A ton of apps are getting support for the device, so you'll be able to do a ton of stuff, like look up scores, browse Pinterest and even adjust your Nest thermostat. You can also use it to control your Apple TV or use it as a viewfinder for the iPhone camera.
Apple Watch Release Date
The only official release date that we've heard from Apple about its smartwatch is "early 2015." However, there have been rumors flying around for several weeks on when we'll see launch of the Apple Watch exactly.
Perhaps the most solid rumor comes from Apple itself, according to a leaked internal message given to Apple Stores by retail employees retail senior vice president Angela Ahrendts.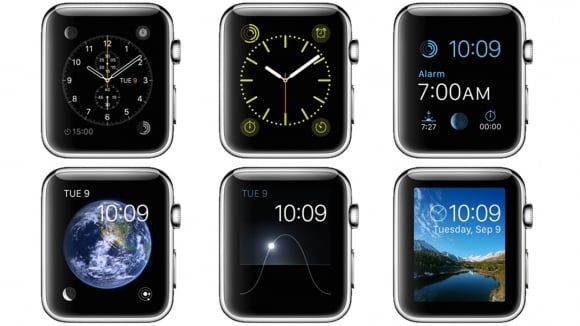 In the message, Ahrendts says that Apple Store retails employees should be prepared for a "new watch launch coming in the spring." This goes slightly against what Apple has stated in the past, quoting an "early 2015″ release on its website, but considering that spring starts on March 20 next year, that can technically still be considered "early 2015," since March is a part of Q1 2015.
Apple is usually known for launching big new products ahead of an upcoming shopping season, but the Apple Watch will be an exception, releasing at some point early next year. Valentine's Day would be the only other shopping season alternatives, but even that seems like a stretch as far as getting the Apple Watch to launch before then.
Apple Watch Price
The Apple Watch will come in three different models: Apple Watch, Apple Watch Sport, and Apple Watch Edition, with two different sizes for each. There will also be six different straps to choose from, with a soft, quilted leather strap being an option, as well as a "supple" leather strap with a clasp, and even a stainless steel strap for the classy folks.

The prices for these three Apple Watch models vary, obviously, with the entry-level model priced at $350. That's an official price from Apple, but other than that, there's no official word on other prices for different Apple Watch models.
Some rumors have suggested that the Apple Watch Edition, which will be made from 18-karat gold, will cost several thousands of dollars. This isn't too surprising, as many watch enthusiasts will easily spend that much for a timepiece, but if you're wanting to spend as little money as possible, be prepared to go with the entry-level model.

As an Amazon Associate I earn from qualifying purchases.