Apple Watch 2: Which One Should You Buy?
The Apple Watch Series 2 starts at $369 and ranges all the way up to $1,499. In this guide, we'll explain the differences between all of the Apple Watch Series 2 models and help you decide which one is the right one to buy.  Choosing the right Apple Watch Series 2 can be overwhelming since Apple sells 37 different. This guide will help narrow down your options.
Before exploring all of the Apple Watch Series 2 variants, it's worth taking a quick look at the Apple Watch Series 1 to see if it might meet your needs. While there are some nice upgrades in the Watch Series 2, the new features will primarily benefit those who run, hike and/or swim. If you aren't any of those or are considering upgrading from last year's model, you at least pause and evaluate your workout schedule (or lack of one), before splurging on the Apple Watch Series 2. The most basic Apple Watch Series 1 is only $269, a savings of $100 compared to the Apple Watch 2.
Read: Exciting Things You Can Do With the Apple Watch
Above is a quick overview of the new Apple Watch Series 2.
One of the most important things to consider when buying the Apple Watch Series 2 is that all of the versions are identical inside and that the  wide price variances are all about fashion. If you're more geek than chic, you'll be fine with the most affordable models. If you're a fashionista, Apple has you covered, but be ready to pay to make your fashion statement.
What's new in the Apple Watch Series 2?
https://www.youtube.com/watch?v=p2_O6M1m6xg
The Apple Watch Series 2 has a brighter display, improved water resistance,improved processor, and built-in GPS. The original Apple Watch Series 1 is only splash proof, which means it's not designed to be used while swimming or in the shower. The faster processor on the Apple Watch Series 2 means improved app performance, including faster display refresh rates. The built-in GPS on the new watch means that runners can leave their phones behind and still log their runs. It also means hikers can plan and track their hikes where cell phone signals are scarce. The most visible difference between the two watches is that the Apple Watch Series 2's display is twice as bright as the original.
Apple Watch Series 2:  38mm vs 42mm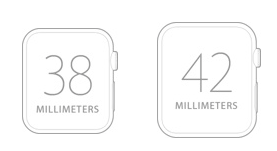 The Apple Watch Series 2 comes in two different sizes: 38mm and 42mm. While it's easy to think of the two models as sizes for ladies and men, it's more important to measure your wrist than go with one or the other because of your gender.
The 42mm Apple Watch is obviously larger, packing about 30% more pixels than its smaller sibling. If you have big hands or a little clumsy, you might want to opt for the larger Apple Watch for a better experience.
Apple Watch Series 2: The Entry Level Models
As it did last year, Apple is selling both Aluminum and Stainless Steel versions of the Apple Watch Series 2. Instead of the ridiculously priced gold Watch Edition models, Apple's high-end offering this year is made of ceramic.   If you're trying to save money, then you'll want to stick with the Aluminum versions of the Watch Series 2.
There are two basic  Aluminum Apple Watch Series 2 models to choose from: The Apple Watch and the Apple Watch Nike+, both of which start at $369. Another thing to remember about the Aluminum models is that they are a little lighter than the stainless steel versions, which are more expensive.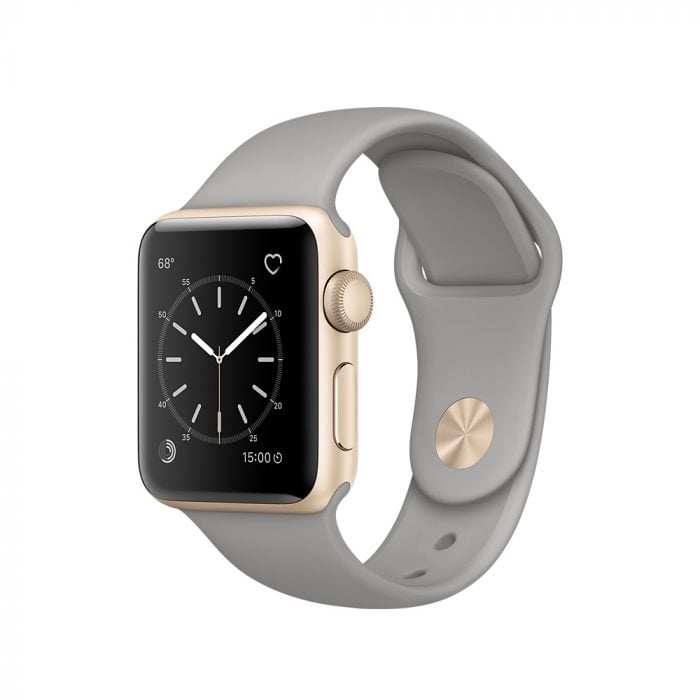 The standard Aluminum Apple Watch Series 2 looks pretty straight forward and comes with a solid sports band in its basic configuration. The smaller 38mm Aluminum Apple Watch Series 2 costs $369, while the larger 42mm version starts at $399. These are what we recommend to almost everyone since most people are buying Apple Watches to serve as extensions of their iPhones rather than to make fashion statements.  Most people will find at least one color combo in the base models that fits their styles.  The Watch itself comes in three different colors, including rose gold (pictured above), black and silver.  Choose your favorite aluminum color and pair it with any of the with eight Sports Band colors and you're good to go. The more expensive bands can always be purchased down the road.
For dedicated runners, those getting into shape, or who are a little younger, the Apple Watch Nike+ is your best bet.  It starts at $369 (38mm) or $399 (42mm) Instead of a a solid sports band, the Apple Watch Nike+ comes with a light, flexible band that has holes for improved ventilation.  There are a few Nike watch faces that are exclusive to this model of the Apple Watch that are designed to encourage you to run more. Unfortunately, the Apple Watch Nike+ isn't launching until the end of October, more than a month after the standard Apple Watch Series 2 models will start shipping.
The Apple Watch Series 2 Nike+ is available in four color combinations. With a Space Gray Aluminum case, you can choose between a black band with yellow accents, or a black band with gray accents. The Silver Aluminum Case comes with either a silver band with yellow accents or a silver band with white accents. It goes without saying that those who work in more professional environments will want to steer clear of the bands with yellow accents since they are extremely eye-catching.
Apple Watch Series 2 Stainless Steel
The next step up from the basic aluminum Apple Watch Series 2 are the stainless steel models. Some people prefer the polished metal compared to the anodized aluminum. The shiny finish is more akin to what people are used to seeing on fashion watches.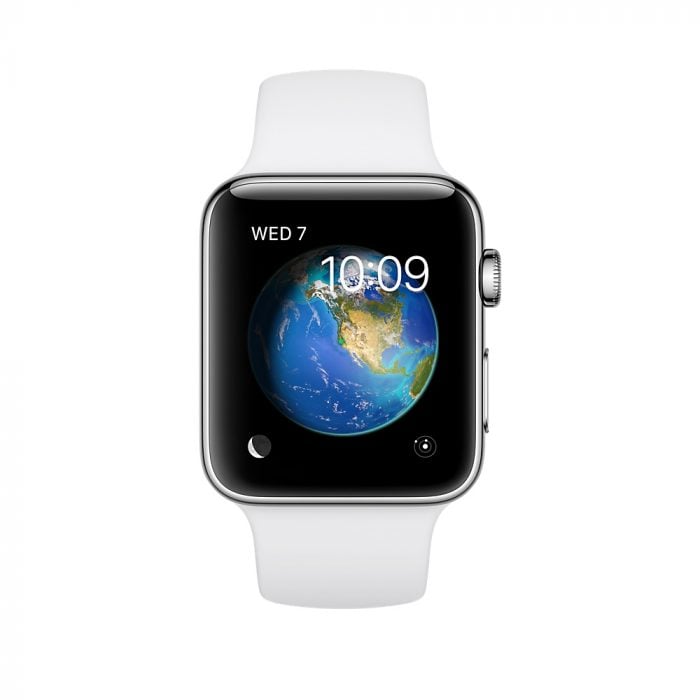 The Apple Watch Series 2 in stainless steel starts at $549 (38mm) and $599 (42mm).  That's a $180 premium over the basic aluminum watches. The original Apple Watch in stainless steel came with a slightly nicer box and a metal-rimmed charging puck to differentiate it from the aluminum models and we're guessing this year will be no different. In the end, it's really up to you if a stainless steel case should command a 50% price premium.
If you're dead set on buying an Apple Watch Series 2 to match your wardrobe, then you will have more flexibility with the stainless steel models than the aluminum models. There are a total of 13 band options with this version of the Apple Watch, including some leather bands. At the top of the price heap is the $1,499 Apple Watch Hermés with Etoupe Swift Leather Double Buckle Cuff.
Apple Watch Edition: Ceramic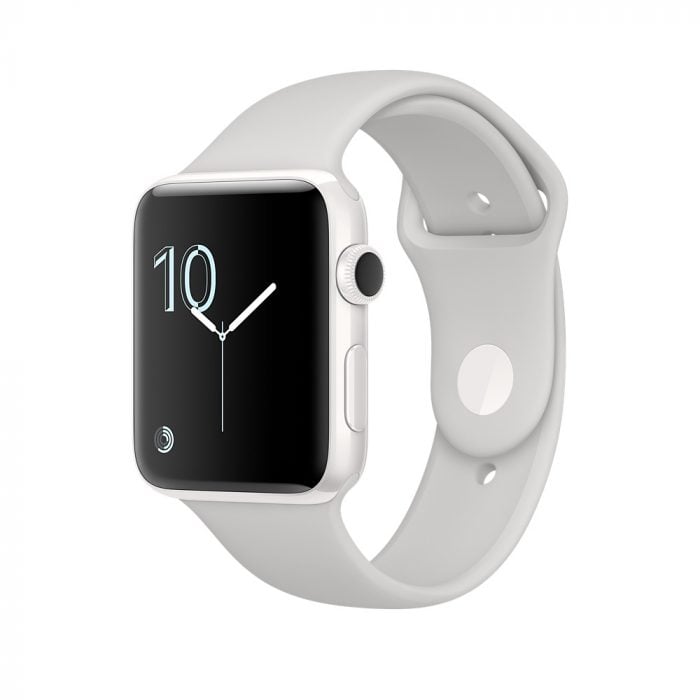 The most unique Apple Watch Series 2  is the Watch Edition, which is ceramic. Apple claims that the ceramic it uses to build the Watch Edition is four times as hard as stainless steel, which means it won't scratch under normal use.
Apple claims that each Apple Edition ceramic case takes several days to make. Its brilliant white finish will make a fashion statement that's a bit more subdued than the Apple Watch Hermés.  At $1,249 (38mm) or $1,299 (42mm), you'd think Apple would throw in something better than the Sport Band, which is the same one that comes on the base $369 aluminum Apple Watch.

As an Amazon Associate I earn from qualifying purchases.