Apple Watch Will Work with iPhone 5s, iPhone 5c & iPhone 5
Apple's new Watch will not only work with the iPhone 6 and iPhone 6 Plus, but the company announced that it will also be compatible with the iPhone 5s, iPhone 5c and the older iPhone 5.
Apple has finally announced and unveiled its smartwatch today, simply called Watch, and it's the company's take on what a smartwatch and a fitness wearable should really be.
As expected, the Apple said that the device requires an iPhone to pair with in order to function, but what was perhaps most surprising is that the Apple Watch will work with some older iPhone models, namely the iPhone 5s, iPhone 5c, and the iPhone 5.
While the company has taken the "i" prefix out of the name, that doesn't mean it loses the essence of Apple. The Apple Watch's design is very similar to that of Apple's other iOS products, including the iPhone, iPad and iPod Touch, and the wearable device even runs a modified version of iOS, with touch screen capabilities and a dial on the side that's used for some navigation aspects, as well as zooming in and out of maps.
However, Apple CEO Tim Cook says that the company didn't just shrink down the iPhone's user interface and strap it to your wrist. Instead, the touchscreen UI is much different on the Watch than on an iPhone, and the display can even sense pressure, which means that it can tell the difference between a "tap" and a "press," which is simply the difference between a left-click and right-click on a computer mouse.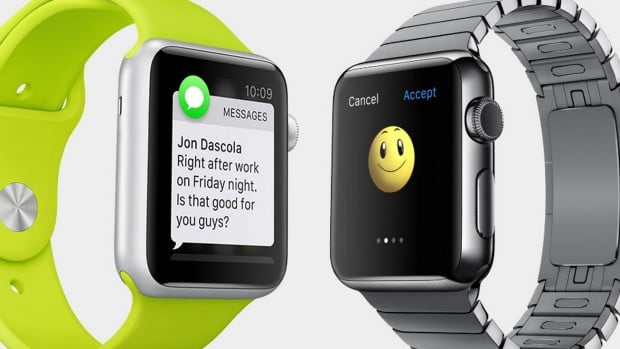 Furthermore, the Apple Watch looks to be quite the fitness device with it's wide selection of sensors to record your heart rate and other bodily vitals, and it borrows the GPS signal from your iPhone for running or cycling apps to use. It looks like it'll track your fitness activities better than most wearables devices, but we'll have to test it out first before we make such claims.
What's perhaps most impressive about the Watch's user interface is that it can analyze the text of a text message and will automatically provide you with pre-determined answers to allow you to easily answer back with just a tap. Otherwise, you can talk to the device using Siri on the Watch and have it translate it into text, where you can then just tap to send it.
Other features include the ability to tweet from the Watch and even unlock hotel room doors with a quick wave at select SPG hotels. A ton of apps are getting support for the device, so you'll be able to do a lot of cool stuff, like look up scores, browse Pinterest, and even adjust your Nest thermostat. You can also use it to control your Apple TV, as well as use it as a viewfinder for the iPhone camera.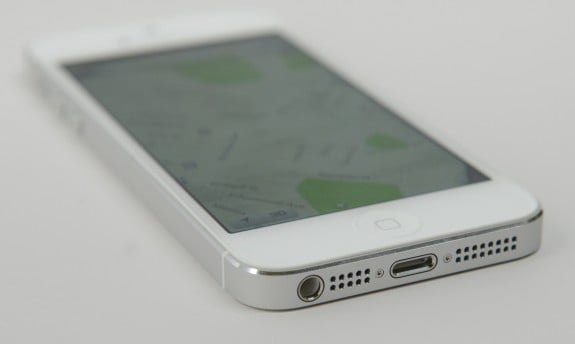 There are six different straps that Apple has made for the Watch, with a soft leather strap being an option, as well as a "supple" leather strap with a clasp, and even a stainless steel strap for the classier folks.
And of course, don't forget about all the different watchfaces that Apple has provided. The company includes a default selection to choose from, but we imagine that third-party developers will be able to get in on the action at some point once the watch is released.
The Apple Watch will start at a steep $349 and will be available at some point in early 2015, but no exact release date has been announced yet. Also, no word on battery life or connectivity options, which is a bit odd, but the company says that information will come soon enough, possibly at Apple's iPad event next month.
Smartwatches are still a rather niche product, but the ability for older iPhone 5 users to be able to use the Watch is a huge plus for consumers and could possibly turn this "niche" market into a mainstream one.

This article may contain affiliate links. Click here for more details.