iPad Mini Launch May Include Complete iPad Refresh
Apple will soon unveil 24 new iPad models including the new iPad Mini according to a report from 9To5Mac.
The Apple rumor site posted an image of 24 new SKUs for Apple's iPad with four different model numbers: P101, P103, P105, and P107. The descriptions for each SKU include A or B for black or white and "good," "better," or "best" which likely refers to the storage capacity of the new iPads.
While 24 sounds like a lot of SKUs, the current iPad has a total of 18 SKUs for its whole lineup. That includes one SKU for every storage capacity, color, Wi-Fi, and cellular combination possible.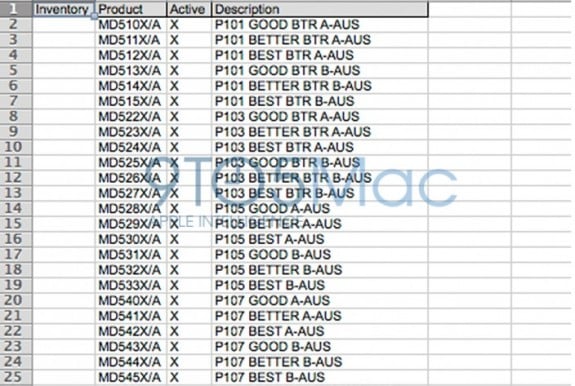 To get to 24 total SKUs the iPad Mini would need to come in more possible varieties than the third-generation iPad. It's more likely that Apple has some changes to the iPad to go along with the iPad Mini.
Some of the SKUs for the iPad Mini could include a new iPad with a Lightning port instead of the 30-pin Dock Connector it currently uses. 9To5Mac believes that half of the model numbers might belong to the iPad to help bring up the numbers.
These leaked SKUs could point to the iPad Mini launching in WiFi only, for example occupying the P101 lines with three storage capacities in black and white. The rest of the models could represent the larger iPad in WiFi and the Verizon and AT&T models.
Apple will likely announce the iPad Mini next week on October 23, just three days before Microsoft will release its Surface tablet.

As an Amazon Associate I earn from qualifying purchases.